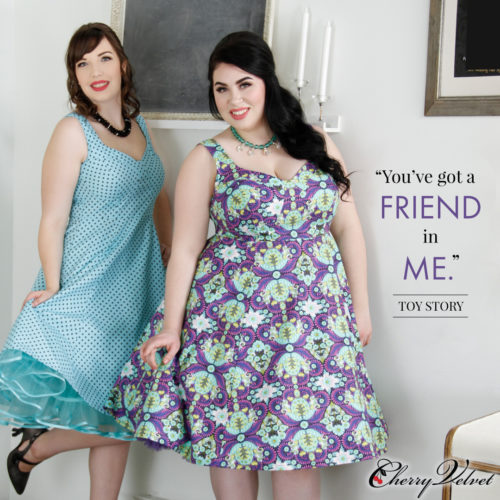 If there's one thing everyone can agree on, it's that everything is so much more fun with a friend. Think of shopping and what do you think of? Hangin' with your bestie! Vancouver is filled with so many beautiful souls who rep our dresses so well and we are so lucky to know two lovely ladies that stand out not only as gorgeous Cherry Velvet models, but incredible friends with a magical bond.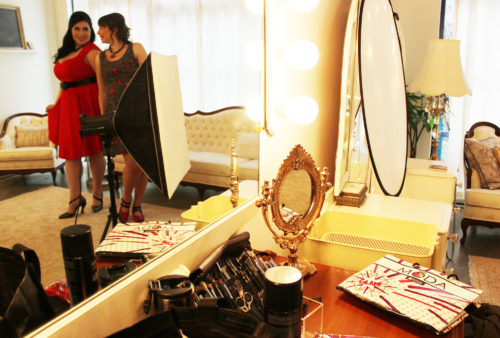 Seeing Veronica and Erin model together, you can tell that these two girls really "get each other's crazy" (as Erin so aptly puts). Veronica is Samwise to Erin's Frodo…Lilo to her Stitch…Ron to her Harry…We could obviously go on.
Models by day, Fangirls…always!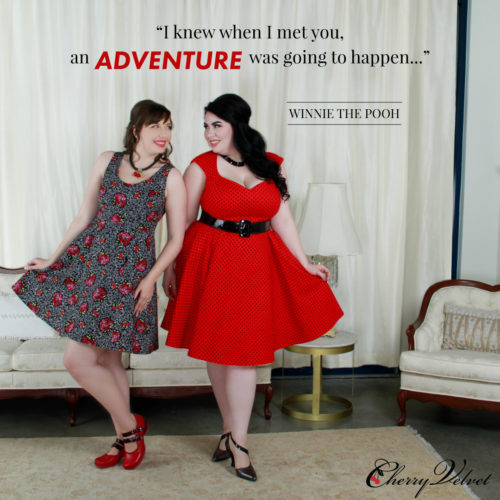 From Disney obsessions to Simpson References, these cuties are the perfect example of kindred spirits. Friends since 2006, they both met acting for a local playhouse – quickly bonding over assorted geekery and a shared passion for performance.
Just like true sisters (from different misters!), not only was Veronica one of Erin's Elven bridesmaids for her themed wedding, but they've also supported each other in things like auditioning for the same role in a local production of "The Graduate"!
 Cherry Velvet followers will already recognise Veronica as one of our favourite models, so it's only fitting that she inspired Erin to connect with us as a model shortly after she became an official Cherry Velvet Girl.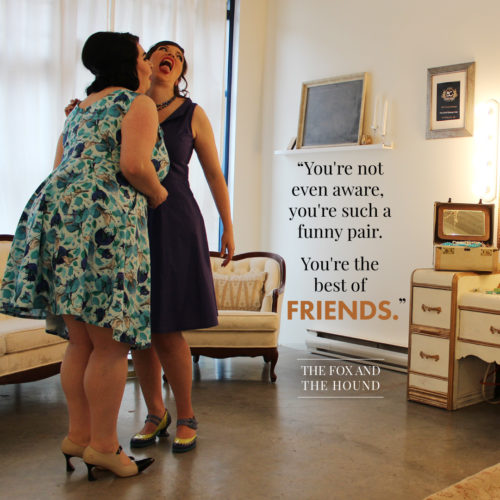 Awhile back, we had the pleasure of shooting with these charismatic chickies for our Spring 2017 Lookbook. But between the impromptu singalongs and all the face pulling, we couldn't help but feel like we were all hanging out like old friends. You definitely see how much fun these girls love to have.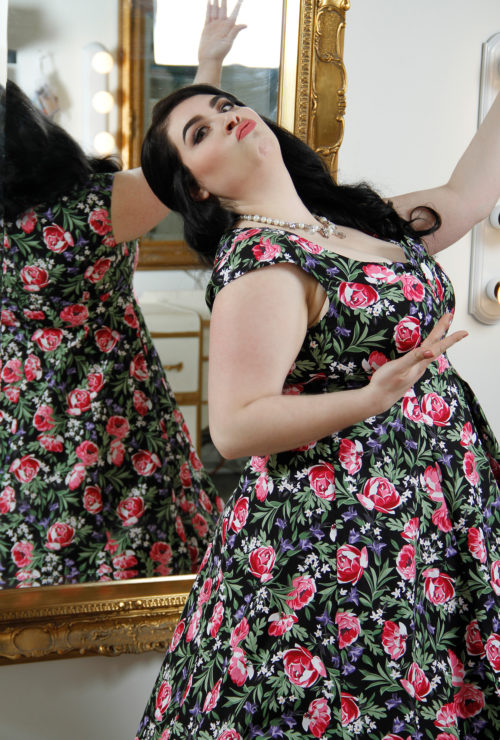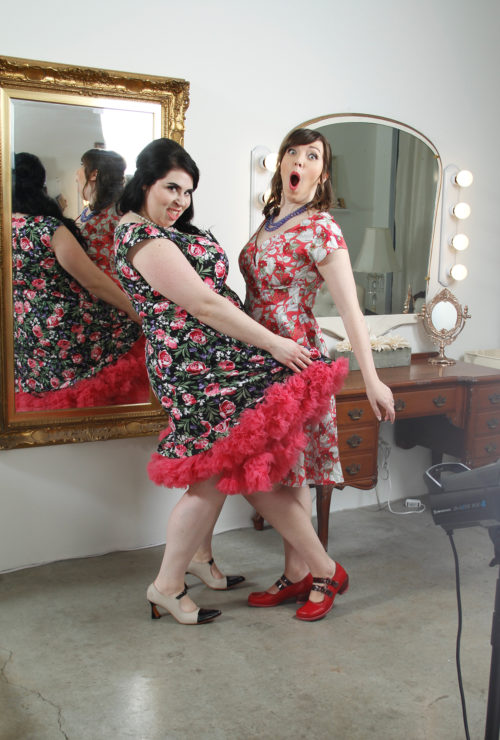 …but when it came to lights, camera, action, these Princesses of Poise knew how to turn it on!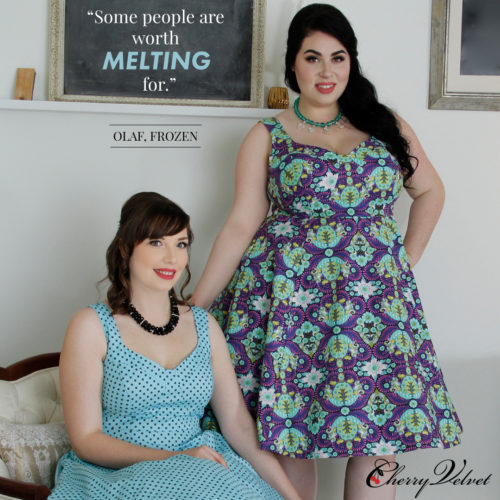 "Together, we are… The ULTIMATE Plus Model!…" Veronica exclaimed.
"…She's the T & I'm the A! Whenever we go lingerie shopping we always joke that she can't find anything to fit her boobs, while I can't find anything to fit my butt!" Erin added. (It's adorable how they finish each other's sentences.)
She also points out that they both love the Retro aesthetic and it was a dream come true to get the same chance with us that Veronica had. After seeing her in our dresses, Erin realised she wanted a chance to model dresses that were as unique as her. "It's nice that curvy girls get to wear fun patterns and feel great!"
All it took was faith & trust (…and a little bit of pixie dust) and here she is!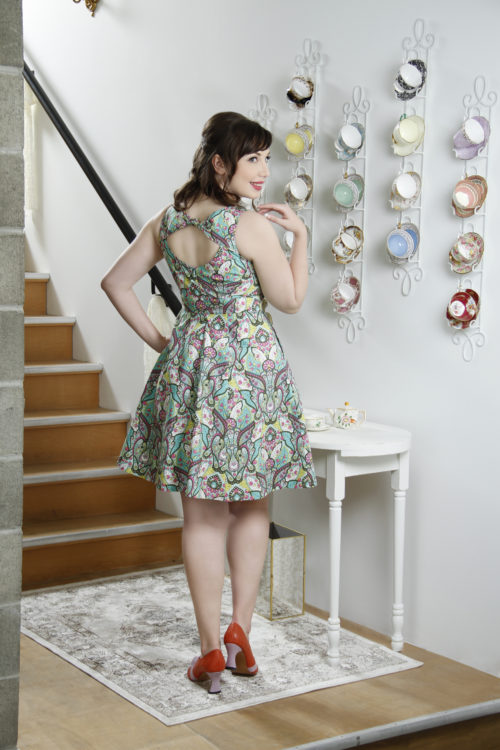 As they slipped into this season's gorgeous dresses, they commented that our pieces fit like a glove whether you're an "Erin" or a "Veronica".
Our straps are designed for comfort and support, so Veronica never has to worry about anything other than stopping traffic! No bra-strap slippage here. And Erin loves how our dresses nip at the waist so perfectly. Identifying as "pear-shaped", she was delighted at how our fun and full skirts accentuate her curves without resorting to uncomfortable body hugging.
Veronica nodded knowingly, "I honestly feel like they're cut and designed so that women can actually wear them."
Well, hey! We can't argue with that, can we? We just love the classic dress silhouette!
It certainly was an adventure with these daring Gryffindors & we hope you enjoyed this little glimpse at the unique people who help bring Cherry Velvet to life!
XOX Cherry Velvet
In the Vancouver area this weekend?
Bring your BFFs & come down for our first Studio Shop of the season –
today from 2-7pm (Feb. 24) + Saturday (Feb. 25) from 11-5pm.