Occasionally we get comments and notes from our customers voicing the opinion that our prices are too high. Sometimes these people list other companies that sell cheaper vintage inspired and retro dresses, and wonder why ours cost more. We want to respond to these comments to hopefully give you a better understanding.
Here's why our vintage inspired dresses cost a bit more…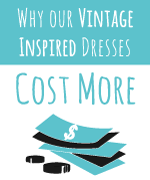 At Cherry Velvet, we take pride in producing high-quality, great-fitting, regular and plus dresses. To make this happen, we employ Canadians in our office, on our design and pattern-making team, and in the local (we're talking 10 minutes away) factories that sew our dresses. We make multiple patterns and samples and fit them on both regular and plus size women to make sure the fit is perfect. It does cost more to make 2 patterns and multiple samples for each style of dress.
In recent news, it's been made common knowledge that human rights violations are rampant in developing countries where many other brands get their garments sewn. We employ local Canadian factories, visit our factories on a regular basis and work very closely with them. Canadian standards, labour laws and minimum wages are high compared to other countries including the US. We can see the working conditions in person, know how well their employees are treated and rest easy knowing that our factories aren't collapsing or catching fire. Our dresses are not LITERALLY to die for, after all.
Another reason our regular and plus size dresses are a bit more pricey is our premium cotton prints. They do not shrink or fade. The prints are the CUTEST (you know it's true), and we do limited runs of each fabric. These babies are not mass-produced! We usually only have several in each size.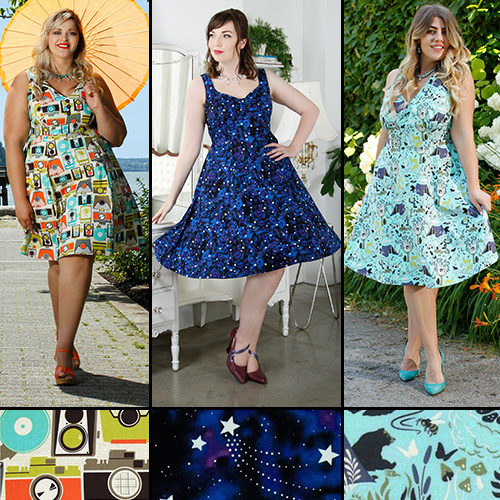 If we really want to get serious, there are 5 ways we can make our vintage inspired dresses cheaper:
1.   Use less fabric (shorter skirts, no room for a fluffy crinoline, no sleeves)
2.   Simpler styles and therefore cheaper labour (take the VA-VA away from the VOOM)
3.   Cheaper fabric (Boring prints that you've seen everywhere else, a million times before)
4.   Make tinier plus sizes that don't fit bigger sizes (we're not mentioning the names of other companies that do this but you might know who they are)
5.   Manufacture off shore. Take away more Canadian jobs, and send them over-seas to factories where we cannot make sure people are being treated well or paid fairly.
Since we are not willing to make these concessions, we're just going to continue making the best quality, best fitting dresses that we can. Also, don't forget that we have a lovely sale section, and a few more affordable styles so that EVERYONE can be a Cherry Velvet girl. Reg & Plus Sale section here
Thank you for your continuing support of our little Vancouver-based business.
We love our customers more than words can say!
XOX Cherry Velvet