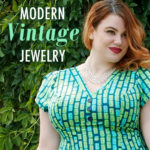 An essential part of finishing off any Cherry Velvet dress surely must be a pretty necklace (and shoes of course) Does your jewelry have to be fancy? No, it does not! But gosh, we do love to accessorise, don't we? There's no easier way to ramp up your modern vintage look than with a few classic beads. The right vintage bauble can take you from demure to glam just like that. 
While I was on a trip to Wales last year I discovered several antique shops. One that sold trinkets like compacts from the 50's, Crocodile handbags, and perfume atomisers. Looking around, I said to a fellow, "Where is the jewelry?" And he said, "Why Miss, there's a whole other store that's full of jewelry!!"
Giddy with anticipation, I headed straight over. I was not disappointed! An entire jewelry store full of beautiful vintage pieces was on sale for 50% off. Crikey!! These are a few of the necklaces that came home with me, all for a song. (You bet I was singing and dancing that night at the pub!)
Treasures found!
My favourite find? This beautiful Aurora Borealis clear cut glass beauty with three graduated tiers and a beautiful jeweled clasp. My other great find was what the proprietor called Night and Day glass. It's black but the liberal Aurora Borealis finish on it sparkles with purples, magenta, turquoise, and chartreuse.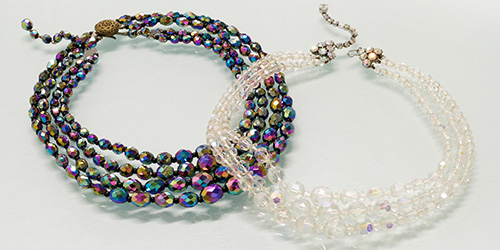 This past weekend I was at an antique show in Tsawwassen and hit the vintage jewelry jackpot, again. This time I scored a double string of candy pink graduated pearls from the fifties and two crystal necklaces, bracelet and earrings sets, one red and one ultramarine blue.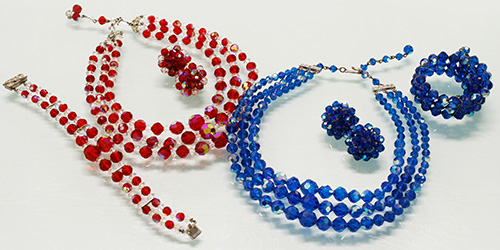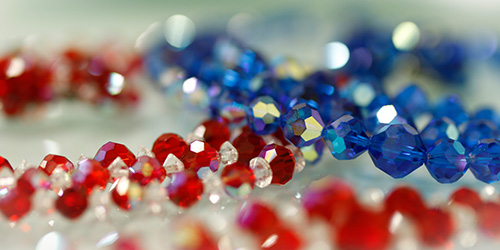 The quality of my finds are amazing but one problem stands out with buying vintage jewelry and that's the fit. Just like most true vintage dresses are tiny, so is the jewelry. Many of these finds will need to be restrung to fit my neck. While it's a shame to undo the original handiwork, how wonderful to have pieces I'll truly enjoy wearing. Earrings too, if you can find them. They all have those nasty, pinching clips.
Perhaps you're not an antique shopper or maybe you can't be bothered with restringing necklaces. Whatever the case (may be), I urge you to have a look at our growing selection of modern vintage pieces handmade with love and built especially to fit ALL SIZE necks here. 
Happy accessorizing!
Love Diane, Cherry Velvet XOX