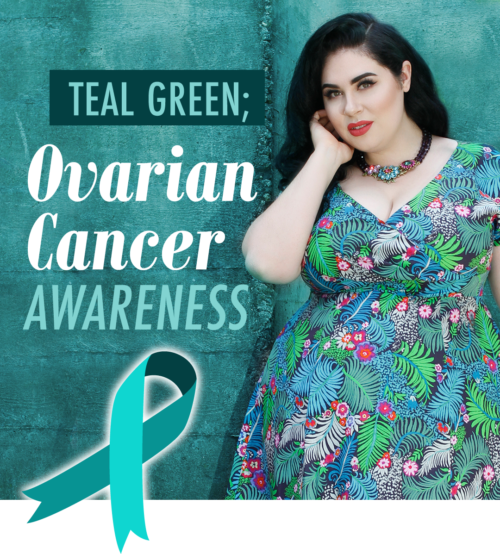 Did you know that teal green is the colour of Ovarian cancer -a much less talked about, but very serious type of women's cancer?  Unlike other more well-known types of women's cancer, there is no screening test for cancer of your #ladyballs. This is a somewhat controversial name for your ovaries, but it does require both knowledge and guts to beat this difficult to diagnose disease.
It's important to our designer, Diane, to spread awareness, as not only did she lose her Mom at a very young age, but her Sister-in-law as well.  You may have heard the story of one of our early models, Elly Mayday, who at 25 yrs old was diagnosed with Ovarian Cancer.
There is no one specific symptom for Ovarian cancer and these symptoms are generally vague/non-specific (often mistakenly attributed to other causes). It's called 'the disease that whispers' for good reason: it's often overlooked and under-diagnosed.
Do you do a breast self-exam every month? What about going for an annual pap test? These simple steps could save your life. Taking care of your #ladyballs is not as straightforward.
These are the symptoms to be aware of:
Swelling or bloating of the abdomen
Pelvic discomfort or heaviness
Back or abdominal pain
Fatigue
Gas, nausea, indigestion
Change in bowel habits
Emptying your bladder frequently
Menstrual irregularities
Weight loss or weight gain
Other symptoms…
Mass or "lump" in your pelvis that you can feel
Inability to eat normally
Pain during intercourse
Vaginal bleeding
We hope we've inspired you to catch up on any tests you haven't taken lately, and brought attention to ways to help spot Ovarian Cancer. Please also consider taking a moment to share this post with all the important women in your life so that they'll be aware, too.
Here's also something else you can do. From September 15th to the 30th, we're donating 10% from the sale of each dress from our teal green dress collection to Ovarian Cancer research.
XOX Cherry Velvet