You're most likely an Hourglass shape if:
Your hips and bust are about the same measurement

Your waist is well defined

You have a medium to large bust
My oh my, aren't you a lucky lady!  The Hourglass shape is considered the most coveted of female body shapes and is also the least common. Only 8% of women have a true hourglass shape.  If you do have this shape, showing off your curves is easy with the right clothing.  No, this doesn't mean squeezing into a restrictive corset (we'll gladly leave this daily torture to the Victorians) — unless you're looking to imitate one of those burlesque beauties!
First, start your wardrobe off right with one key element: a properly fitting bra. Just like a clear, even complexion is the perfect base for your daily makeup routine, a good bra is the foundation of your wardrobe—especially for Hourglass shapes who tend to have medium to large busts. Just say no to lumps and bumps!  Many specialty lingerie stores have trained staff to help you find the best fit; this is an indispensable service that will most likely improve how your tops look and fit your body.
Now that "the girls" are sitting pretty, don't hide out in baggy or oversized clothes! Another must-have for hourglass shapes is a top with either a v-neck or scoop neckline. Both styles slim the neck and chest and will make you appear slimmer and taller. If you are showing cleavage and feel uncomfortable, you can wear a body-hugging cami underneath, giving you coverage without distracting from the lengthening effect of the neckline.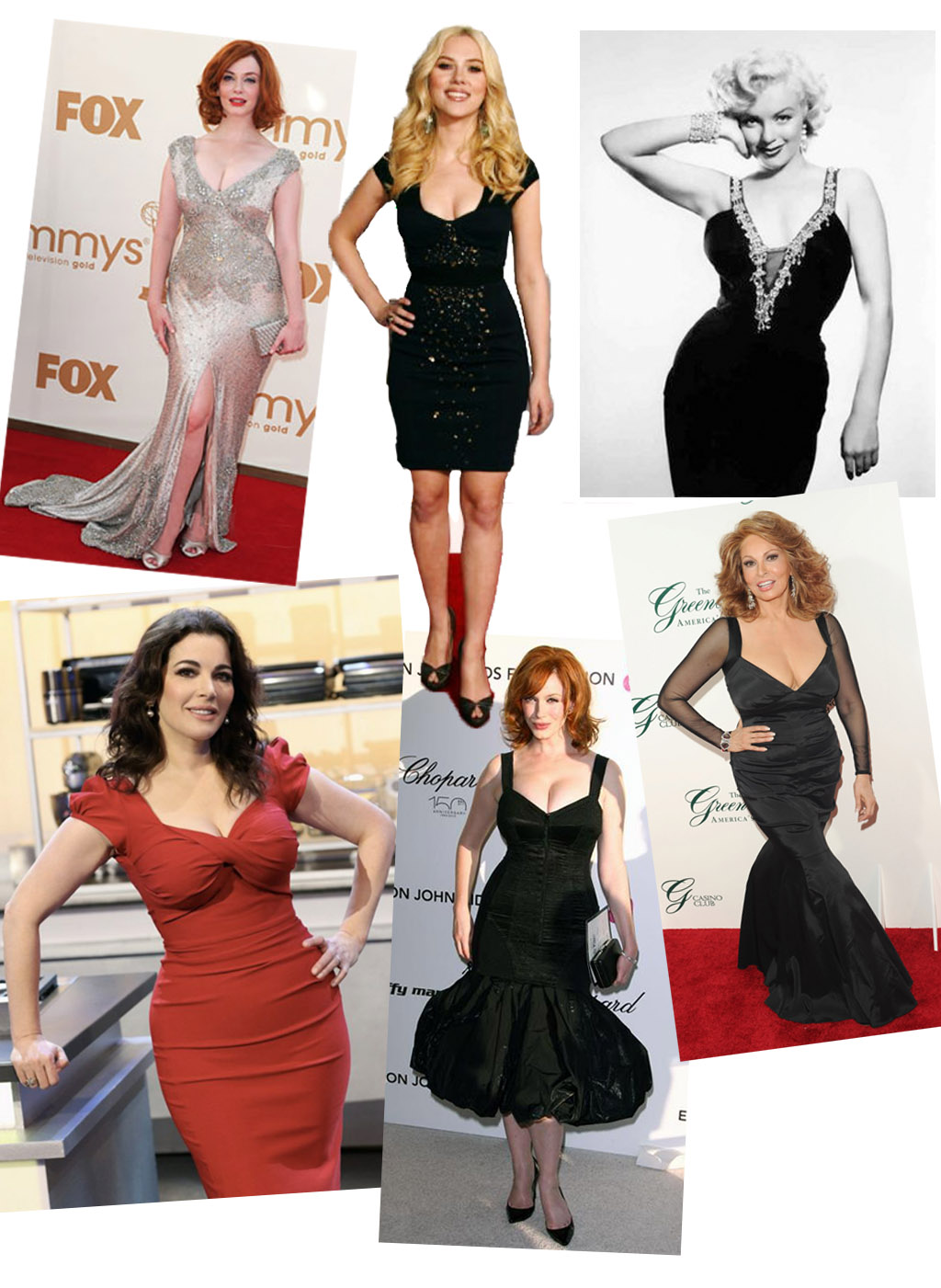 With an Hourglass figure, play off your curves by emphasizing your narrow waist. Wrap around styles easily show off this asset and are a no-brainer for a chic look you can dress up or down.
You can also add instant wow-factor to any outfit by wearing a great belt—this is an area where you can really have fun with current trends and show your personality without big investment. For your shape, wear a belt at the smallest part of your natural waistline to define your hourglass figure in looser tunics and cardigans, or to elongate the line of your legs in skirts and dresses or fitted styles.
My best advice? Love your body and celebrate your Hourglass figure by choosing clothing that shows off and compliments your curves. Need a little inspiration? Look to actress Scarlett Johanssen for current fashions and trends suited to hourglass figures, and celebrity chef Nigella Lawson for feminine confidence and strength through modern classics.
xox Cherry Velvet