All in One Place
Are your girlfriends the exact same size as you? Maybe you and your girlfriend range from small to plus sizes? Whether you're shopping for an event or just taking in some retail therapy together,  it's always great to have a trusted friend along for the journey. Who better to rely on than our besties when choosing a special outfit. Let's face it, no one knows you better or sees your best qualities like your true pal.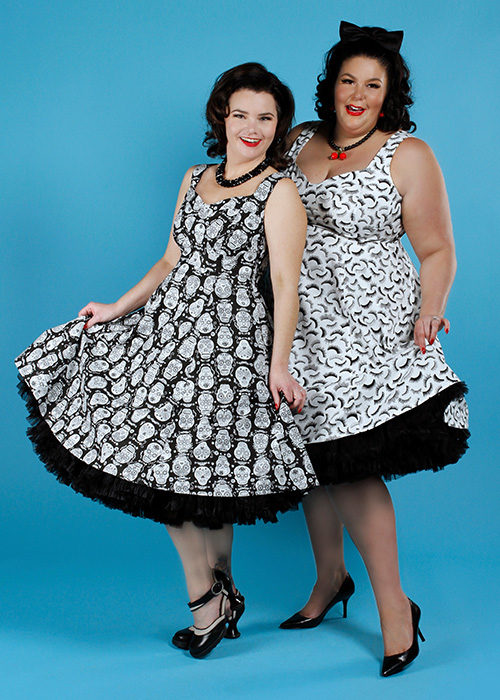 Anyone who has tried to have this experience when shopping for two very different sized people will know the frustration. It often leads to running all over town to try to find one store for regular sizes and another store for plus sizes.  It usually finds you shopping online on very different websites too.  You may find that the regular size shops offer lots and lots of choices in a variety of fabrics and colours. You may have also found that the plus-sized buddy has much, much less to choose from. This can only cause irritation and somebody is going to be sad.
Cherry Velvet carries sizes S to 3X (and some XS and 4X too)! Actually, our most popular sizes are Large and up. We invited our friends Foxy and Lexi to come in for a photo shoot and do a little shopping. We wanted to show you how someone who wears a size Small and someone who wears a size 2X can look equally fabulous in the same dress. What a concept!!
Of course, we are always here to offer our online customer the best experience possible as well. We encourage you to call or email with any questions you may have and we will always do our best to find you the right styles and the best fit for you!
Studio Shop
Our next Studio Shop is Fri. Feb 2, 2pm – 7pm | Sat. Feb 3, 11am – 5pm and for March we will be open Fri. March 2, 2pm – 7pm | Sat. March 3, 11am – 5pm
Find us at 1635 Powell St. Vancouver, BC – Free parking available on the street or at the west end of our building in The Flag Shop parking lot.
Sign up for our mailing list here so you will always know when our events are happening!
XOX Cherry Velvet