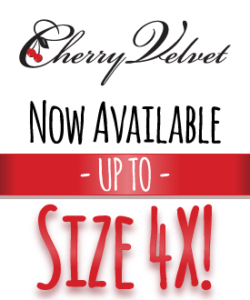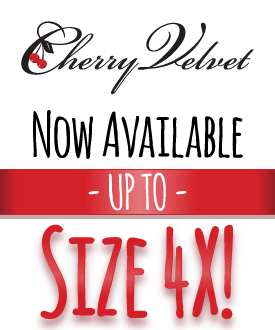 Introducing the newest girl at Cherry Velvet; her name is Brooke. We're excited to tell you about her because she represents a couple of FIRSTS for Cherry Velvet. Not only is Brooke is the first dress with a full circle skirt, this is the first time we've offered a dress in sizes up to 4X! We've had requests from both online customers and retail stores alike, and decided it was time to expand our size chart to 4X.  Besides being deliciously retro, the bonus of a circle skirt is having unlimited room for your hips (so if you're a pear shape, this could be your dress!)
Brooke comes in four pretty and bold prints.  The fabric actually inspired the whole design of the dress; working with such a bold pattern is what gave us the idea to do a circle skirt. We wanted the pattern to have a smooth, uninterrupted repeat. Circle skirts are perfect for this because they only need side seams. The cotton we use is only 42 inches wide, so I have to admit: I wasn't sure it was possible. In the end though, we made it work and ended up with a stunning group of dresses.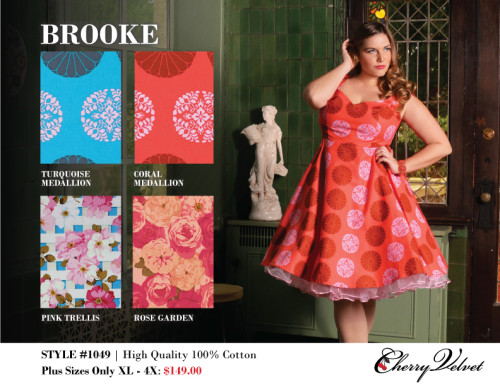 The Turquoise Medallion print is simply exquisite. Blush pink and Navy Blue cameos really POP against the turquoise background. The cool-blue hues of this dress remind us a bygone era of jazz clubs and big cars. The only thing cooler is you!.
Coral Medallion combines blush pink and vermillion red cameos against a coral background. The warmth of these colours truly bring the dress to life, and showcasse your inner vivacious self.
Pink Trellis is all about Pink and creamy flowers that dance across a white garden trellis. In the distance, blue sky pokes through and hearkens to a beautiful sunny day. With so many colours to choose from, accessorizing should be a breeze!
Rose Garden boasts sunset tones of coral, salmon, blush pinks and brown/gold leaves peeking out. You'll feel regal in this warm, rosey gown.
Whenever we come up with a new design, the first step is creating a prototype for me to try on. This way I can be sure that I am happy with the fit along with the design details. I wear a size 1X and I'm only 5 foot 2 inches tall, so  I really wasn't sure how I was going to feel about this large scale print! As soon as I zipped up the dress, I immediately imagined myself  on a Greek island, leaning against an ancient column wearing strappy little gold flats and a bronze summer tan. True, I swear!
I really do hope that our dresses inspire you to feel many different things; happy, cheerful, beautiful, and like anything is possible!
Go get 'em!
XOX Cherry Velvet