The Holidays are almost upon us. Are you ready to stuff?… a Christmas stocking that is?  Here are our best suggestions for stocking swag to make their face light up on Christmas morning. There's not a lump of coal in sight!
Roll The Dice!
We don't want you to gamble on her present this year but we can't help but recommend these adorable Pair-o-Dice necklace and earring sets. They're handmade in Canada and a steal at just $36 for the set. You can choose between red, green or white dice. The odds are in your favour that they're going to adore this!  We especially love this necklace with our Norma Dress in Parlour Ink print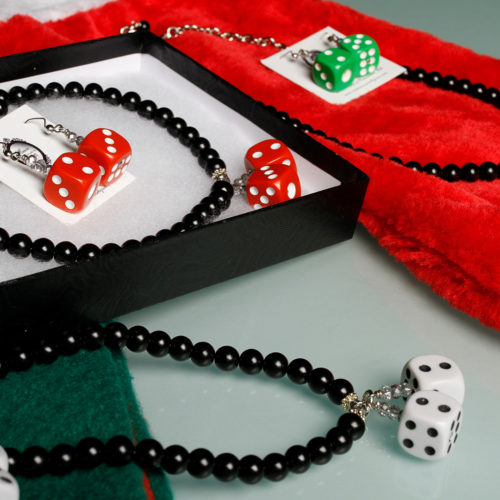 Erstwilder Brooches
Our hottest selling item at the moment are these cute & quirky brooches from Australia called Erstwilder.  Inspired by all things vintage, rockabilly, pinup, retro and art-deco, they're a gift choice suitable for any fashionista on your gift list. They come boxed with a special story about the treasure inside that's the perfect end at their Christmas stocking toe.

Cherry Baby!
'Juicy' Cherry sets are the perfect gift for any retro Diva. Sets include a necklace, bracelet, and earrings in your choice of Black glass (Cherry Cola) or White Pearl (Cherry Icing). The cherry theme goes with so many of our dresses Like Vanessa, Hard Candy and Marie, Double Feature.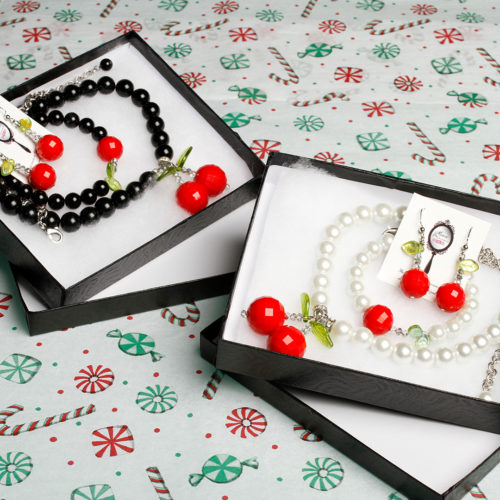 Wish upon a Star!
Make their wishes come true with this sparkling necklace called Galaxy Stars. It features faceted aurora borealis clear crystals, is exclusive to Cherry Velvet and very limited edition. They'll twinkle like a star! It's the perfect compliment to Doris Dress in Star Magic, Dita Dress in Golden Galaxy or Norma Dress in Lunar Cats.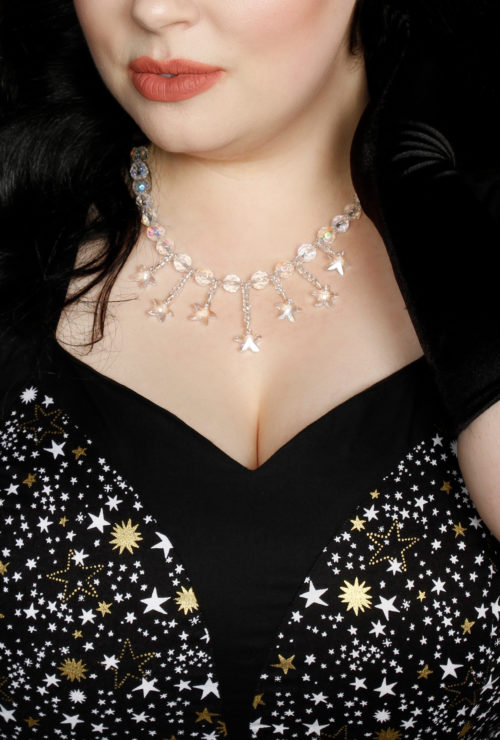 Cherry Velvet Gift Card
Cherry Velvet Gift cards come in denominations from $10 to $200 so you can customize the amount you want to give. You can't go wrong here! You can't mess up the size, colour or pattern by leaving all the choices up to them. All you have to do is sit back and enjoy the accolades. Now you can handle that, can't you?
Of course, if you need any help at all with gift suggestions or sizing….the elves at Cherry Velvet HQ are happy to help. Please feel free to contact us by e-mail @ cherryvelvetplus@gmail.com and we'll get back to you ASAP!
XOX Cherry Velvet