Cynara Geissler is a woman who wears many hats (and cute cardigans, adorable shoes and vintage brooches). We discovered Cynara on an Instagram post where she was wearing one of our Cherry Velvet dresses with the hashtag fatshion. Her body positive style blows us away.  After hearing her speak at the "Embrace The Body You Have" event we knew Cynara had a message that we wholeheartedly agree with and want to share with you.
"Fat acceptance–also known as size acceptance, body positivity, weight neutrality and not-waxing-rhapsodic-about-dieting–is a social and corporeal justice principle, founded on the revolutionary idea that it is not productive to spend every waking moment of every day actively hating your body"~Cynara Geissler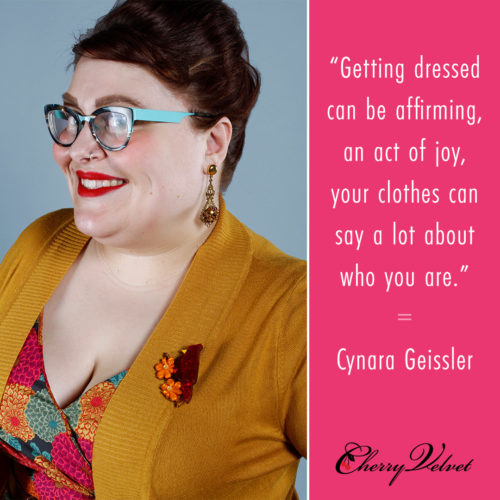 Cynara doesn't just talk and write about fatshion and fat politics, she lives it every day. Every outfit she puts together is washed in colour, whimsy and joy. When Cynara enters the room you just want to know more about her. We thought we would feature Cynara in some of her favourite Cherry Velvet dresses and let her accessorize to her hearts content. This is the result. Enjoy!
Chrissy Dress – Chrysanthemum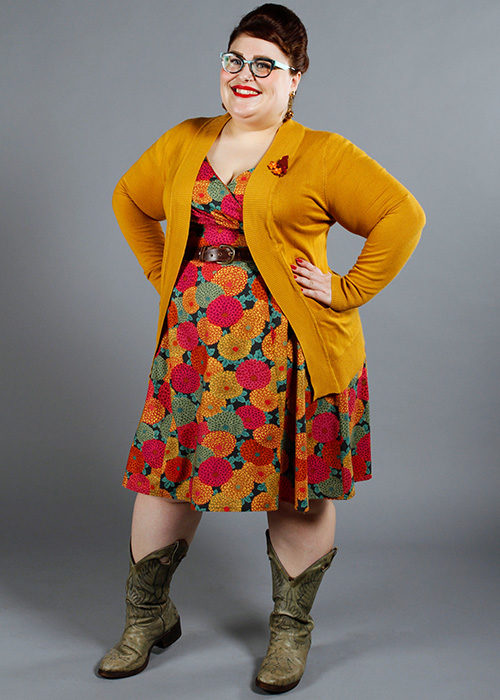 Cynara has added her own flavour to Chrissy Dress – Chrysanthemum Print by adding a gold coloured cardigan, cowgirl boots, brown leather belt, vintage earrings and an Erstwilder Brooch.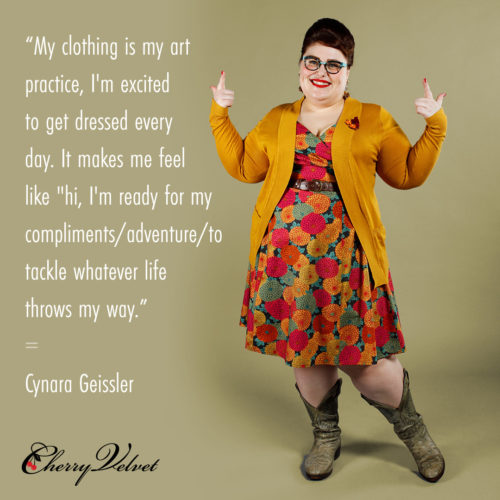 Norma Dress – Lunar Cats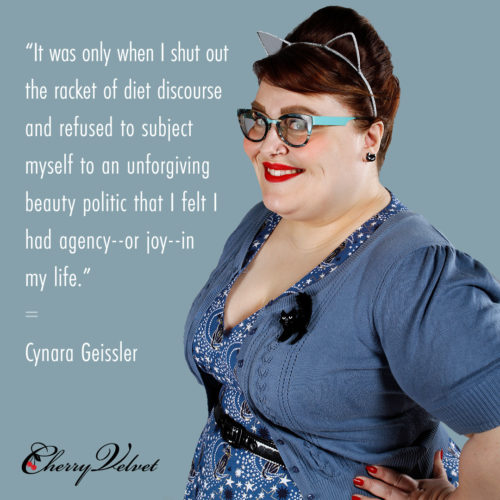 High level of accessorizing achieved here with the Norma Dress – Lunar Cats! Cynara has added her own cute cardigan and black patent leather belt. She has added our adorable little Carla Cat stud earrings by Erstwilder and Catastrophic Fright brooch also by Erstwilder. Head to toe this outfit is a winner. This purrfect look is pulled together by her cat ear headband and kitty cat shoes. Meow!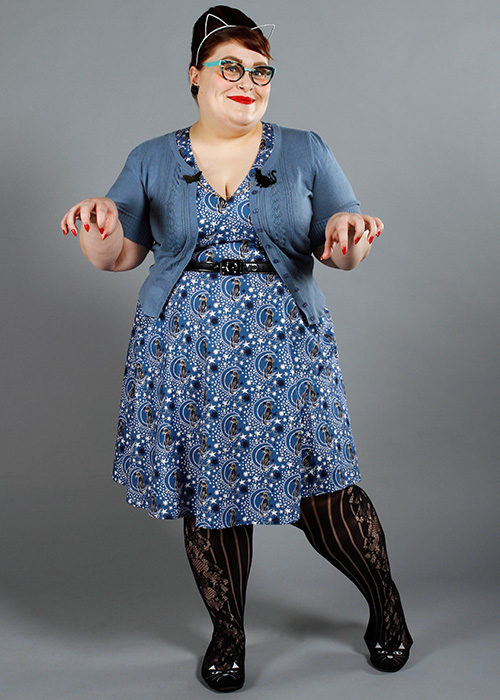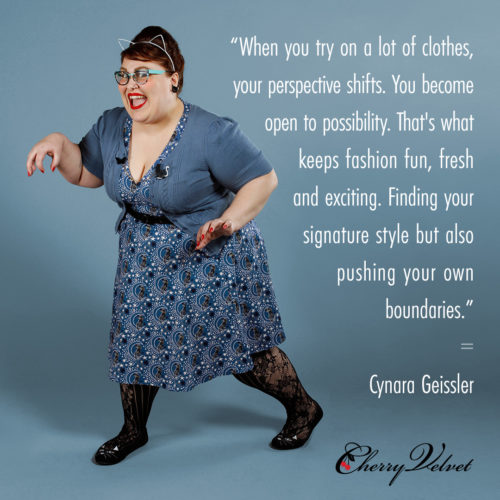 We will leave you with one more quote from Cynara. The more you get to know Cynara the more you realize that her being an extremely articulate person encompasses not only the things she says but the way she dresses and the way she greets the world. Be inspired!
"When you open up to the possibility that you can live your life right now instead of waiting for an arbitrary number on the scale, or on the tag in your dress, it blows your world apart." ~Cynara Geissler
Stay tuned for part #2 next week.
XOX Cherry Velvet
Cynara is Director of Marketing and Publicity at Arsenal Pulp Press. Her critical writing on fat acceptance, fatshion, feminism, and media has found shelter in various print magazines and around the internet including fatshionista.com, Geez Magazine, and Shameless Magazine. Her poetry and fiction have appeared in Milo, Event, subTerrain, and Juice. Follow her on Instagram @cynaragee