Last week we shared a blog post about our friend, fat activist, writer, media maven and Fatshion Icon Cynara Geissler. We couldn't fit all the photos and fabulous quotes into one little blog post so without further Adieu, we bring you Part Deux!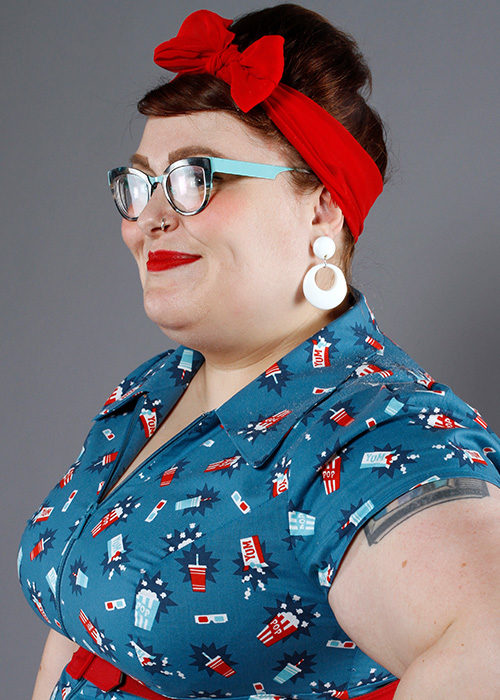 Anyone who knows Cynara knows that she has a very distinctive and committed style. She joyfully wears bright colours and amazing accessories to brighten up her outfits and anyone who she encounters throughout her day. Like a ray of fun, fashion sunshine! She is also brilliant and well spoken, natch.
Let's get right to it, shall we?
Marie – Double Feature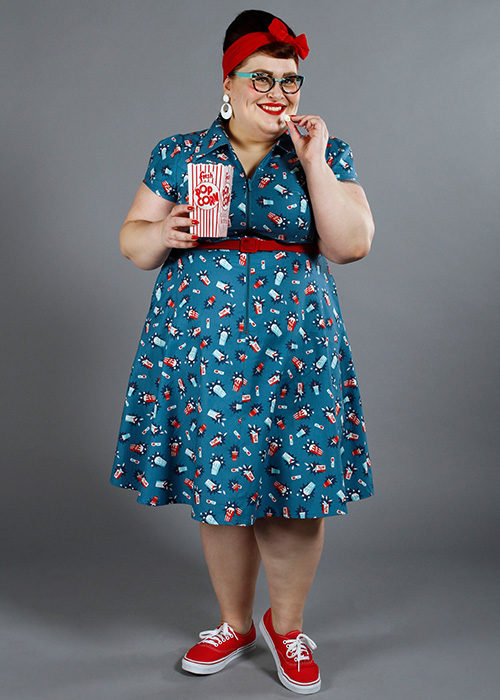 Cynara is all ready for her movie date! She has paired our adorable Marie Double Feature Dress with her own red belt, red hair bow, and red and white classic canvas running shoes. This look is super cute but also comfortable and practical for rushing to get to the theatre in time to watch all those previews. Or a post-movie stroll with her sweetheart!
Olivia – Harvest Bloom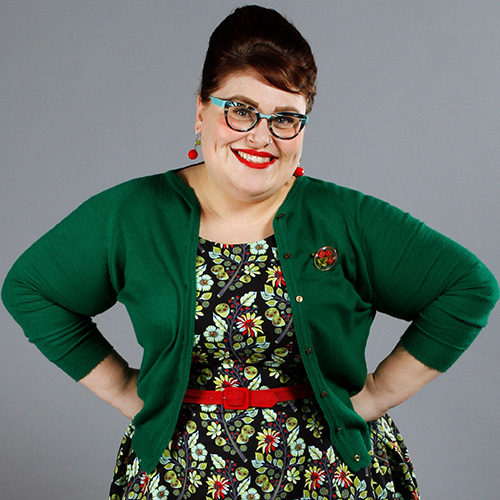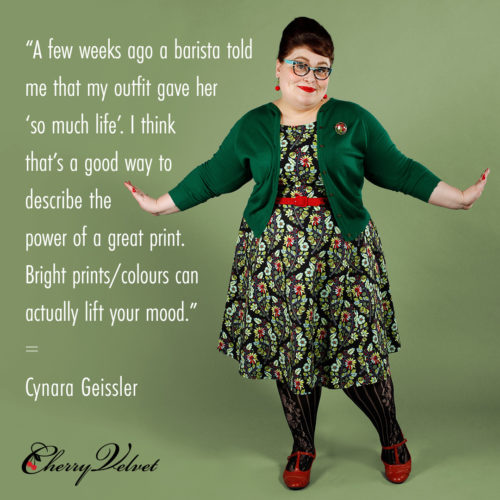 Cynara is wearing that same sweet red belt with our Olivia – Harvest Bloom Dress and here she has added red Mary Jane flats and a kelly green cardigan to pull it all together. Her own brooch and our Cherry Earrings complete this classic look.
Veronica – Blue Raspberry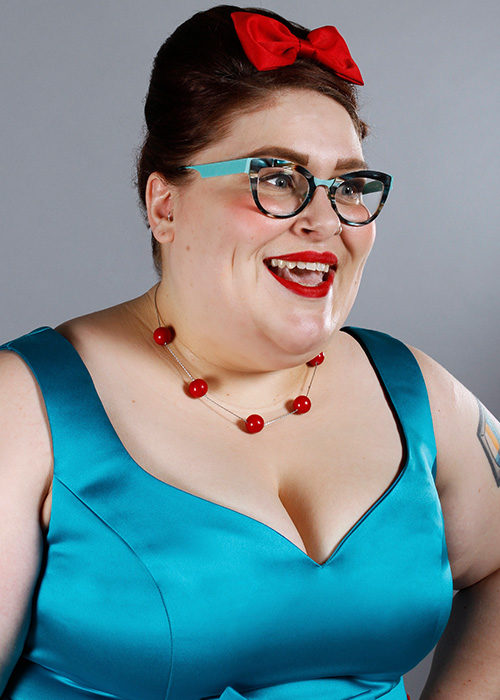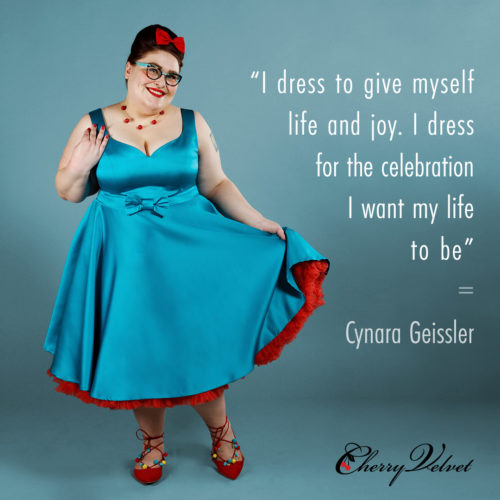 This vision of turquoise and red is one of our favourite looks Cynara has put together. Veronica Dress – Blue Raspberry is fab on its own but with the contrasting red accessories, it pops with joy! A Cinnamon Hearts Vintage Chiffon Crinoline for fabulous floof is just so perfect for this dress. Here we see Cynara's own red hair bow, and neck baubles but possibly the best things ever are her lace-up Pom Pom flats! Amazing!!
We hope that you have enjoyed this two-part blog all about Cynara Geissler as much as we have. We always look forward to seeing what Cynara is wearing, almost as much as we love to hear what she has to say!
XOX Cherry Velvet
Cynara is Director of Marketing and Publicity at Arsenal Pulp Press. Her critical writing on fat acceptance, fatshion, feminism, and media has found shelter in various print magazines and around the internet including fatshionista.com, Geez Magazine, and Shameless Magazine. Her poetry and fiction have appeared in Milo, Event, subTerrain, and Juice. Follow her on Instagram @cynaragee