We must, we must, we must ad"dress" your bust!
An appropriate and well-fitting bra is really important for building the "foundation" of your shape under a dress. Make sure your bra straps are adjusted so that your bust is supported correctly (you know how the straps can stretch out!). When you put on one of our dresses, your bust should sit above the waistband. This will make the dresses look and fit better and should eliminate your breasts being cut in half by the waistband. Yes ladies, lean forward, adjust your breasts up and over the band and then complete the pulling up of the zipper. Much like when you put on a bra.
"When you go dress shopping please wear a great fitting bra! A sports bra or no bra just doesn't cut it to get the best fit"
Under Where?
What you wear on the lower half of your body is totally your preference. Our Cherry Velvet dresses have extra room across the tummy to give you enough room that it's not necessary to wear anything special on the bottom. It's totally up to you! We are a big fan of being able to look great AND breathe!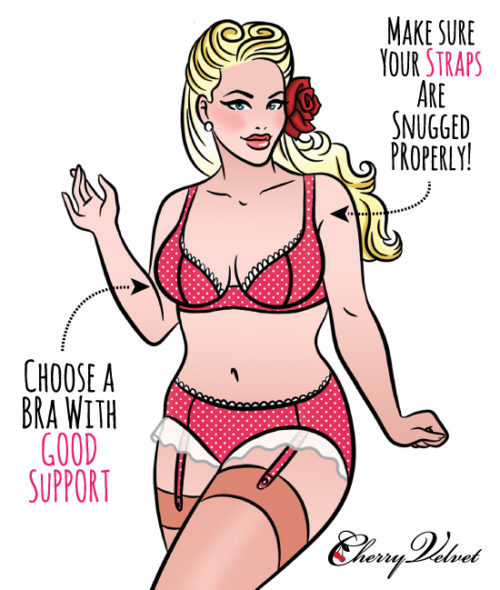 Online shopping
All our bra fitting tips are just as important for when you're measuring yourself to find your best dress fit online as well. Put on a well-fitting bra before you take your measurements to find your size. We made a short video with some easy to follow instructions to help you take simple and accurate measurements. Check it out!
Once you have your measurements you can check out our comprehensive Sizing Chart to find your size. Or you can call or email with your measurements and we will always be happy to help you find your best fit.
When you wear your Cherry Velvet Dress…
Please make sure you've chosen a bra that fits well with good support. We know you want to look your best and feel totally gorgeous when you're wearing one of our beautiful dresses.
XOX Cherry Velvet