No matter your size, your body shape is important to keep in mind when choosing clothing. Proportions are even more important for curvy women. Those who are a size 12 or greater will know that the number of stores carrying "plus sizes" is extremely limited. This is odd considering that more than half of Canadians are over a size 12 and 62% of Americans are over a size 14.
Our very own Diane Kennedy has made it her mission to cater to women of all shapes and sizes. This is why both of her clothing lines, Diane Kennedy & Cherry Velvet, carry regular and plus sizes. Diane has a great understanding of what it takes to dress a myriad of bodies to their best advantage. Diane recommends that every woman should take cues from their body shape when choosing clothing.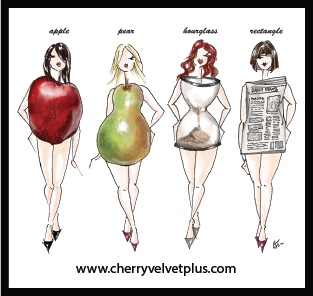 Apple, pear, hourglass, and rectangle; these are the most commonly referred to body types in the fashion industry. But of course you're wondering: what does this mean for me? Well…we've done all the work and have compiled clothing tips and tricks for every curvy figure!
Click on your shape below to learn more…
APPLE           PEAR          RECTANGLE          HOURGLASS
xox Cherry Velvet