You're most likely a Pear shape if:
Your shoulders and waist are narrower than your hips

You have a smaller bust

Your waist is well defined

You have larger thighs & a full bottom
The shape that you have is very beautiful and I bet you've gotten plenty of appreciative stares.  Men have been forever hardwired to choose a mate based on her ability to bear offspring and dating further back than ancient Mesopotamia, curves symbolize fertility.  Follow in the footsteps of celebrities like Beyoncé, Jennifer Lopez and Fluvia Lacerda who have popularized this feminine body shape and celebrate your curves!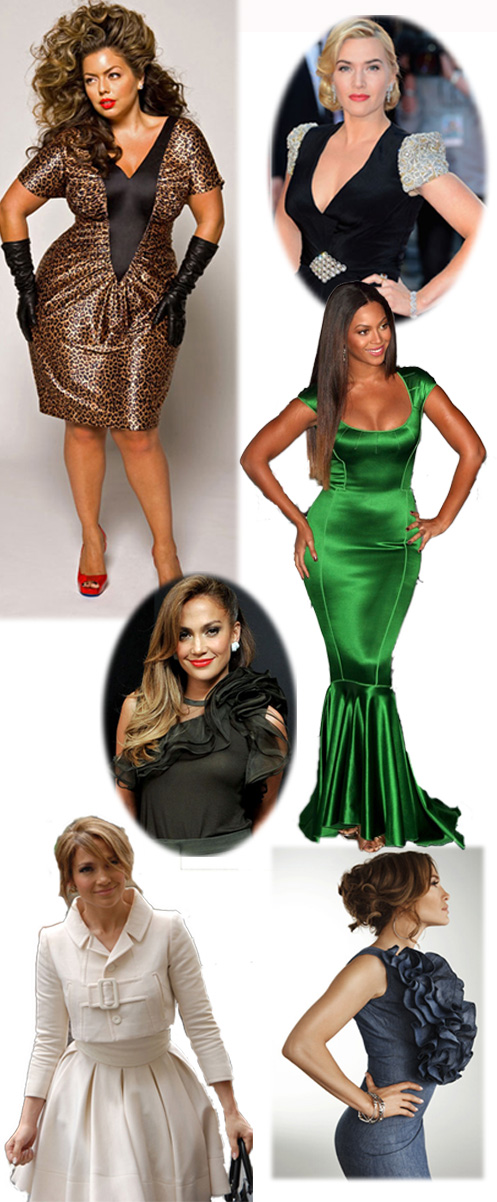 The most important tip for dressing a Pear shape body is to focus on adding width to your shoulders and volume to your bust.  Now ladies, this doesn't mean you should pull out the shoulder pads and padded bras!  Instead, look for tops with a few ruffles, or maybe a big collar, perhaps draping at the neck, or a top that gathers at the shoulder.  You'll look great in bright bold tops!  These extra details will widen your shoulders and create a more balanced silhouette.  By creating more width at your shoulders and chest, you not only minimize and balance your hips but you also frame your lovely face.
For bottoms, you can balance wider hips with wide leg pants that flow away from the body.  A line skirts and boot cut pants are also your friend.  We recommend wearing something dark and simple if you go for a detailed top.  If you're feeling bold, straight pants look great on you but make sure to avoid anything that has pleats or gathers at your waist or hip area.  Bubble skirts are not recommended for you.
Lastly, if you have a Pear shape, never underestimate the power of emphasizing your waist. Dresses or tops that wrap around your waist, empire waist lines, or pleated details on the back waist area of a garment will all look fabulous on you.
If you love your curves and want to emphasize them then by all means…show 'em off! No matter what body type you've got make sure that the clothes properly fit your body's measurements. Focus on achieving a proportionate body silhouette and leave plenty of room to highlight your best assets.
There you go ladies!  Now you have all the tips and tricks to creating the perfect wardrobe.  If you have any questions just comment below and get advice straight from the designer herself.
xox Cherry Velvet