A comment popped up on our survey that a customer thought our waistbands fit too high on our dresses. This is especially true for our plus sizes, and yes, our empire waists do fit high on purpose. Our regular dresses fit a little high on the waist also, but the Plus sizes are more so. We make our dresses with empire waists for a very good reason and so I'd like to explain why we do it.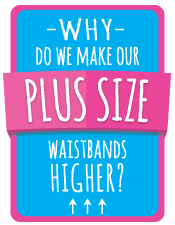 If you really look at a plus size body, the majority of women have the the smallest part of their torso right under their bust. Now of course this isn't true for everyone. If you've never had a baby your natural (real) waistline might still be smaller. But for most of us, this is the smallest part by measurement.  The smallest circumference is also the right at the top of your stomach where it extends the least. Yep…we're talking about my least favorite body part here  …the tummy. If you stand naked in the mirror and look straight forward you may notice it's the smallest width. Then if you stand looking at your side, again you'll maybe notice that your tummy narrows right under your bustline. I find a higher waist to be the most slimming place for a plus size waistband.
So, the reason that we make the empire waists high is because it's the most flattering. It also fits many body shapes as well as heights. So if you're short like me (5'2″), it will fit and if you're tall like many of our models, it will still fit. The other big advantage of a high waist is it gives you more fabric and more room across the tummy (especially on the full skirted styles). So if you're like me and your tummy is not your favorite body part, the higher waist may be just the ticket for you.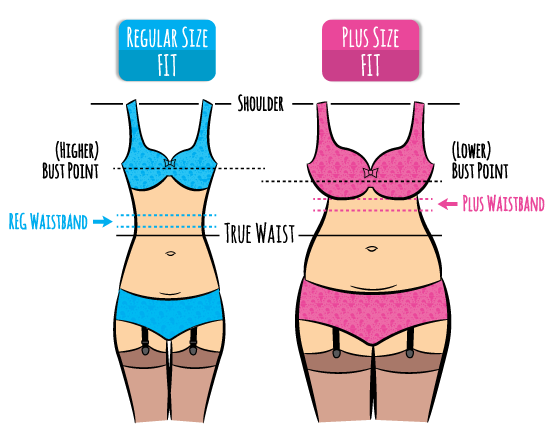 If you've ever had the impression that Cherry Velvet plus size dresses only fit women with perfect hourglass figures, you'd be wrong. Actually they are mainly designed with both apple shaped (bigger in the tummy) and pear shaped (bigger in the hips). While they are definitely also designed for women with boobs, we know not all plus size women have big boobs. Generally speaking if you have a pear figure and smaller boobs our dresses will still fit if you choose a dress with a full skirt and go down a size so that the bodice will also fit.
If you've read our blog posts before, you'll know fit is hugely important to our brand and making dress that fit 'you' is of utmost importance. Don't settle for mediocre fit…. you deserve a dress that fits well!
XOX Cherry Velvet
P.S. We're excited to have added new sorting features to our on-line store to help you easily find your perfect fitting dress. Check it out and our new
fall dresses here