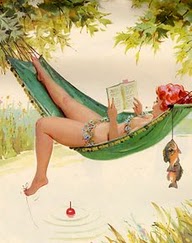 What is your idea of the perfect summer day? When you look back at your past life do you ever have the feeling that those special feelings of long, lazy summer days are gone forever? Sometimes it seems like we can only remember but not quite grasp that feeling. It's hard to imagine how it would feel for me now, having the whole summer off to hang out at the lake or camp with my family or just running wild in the neighbourhood. Life has become more complicated and life is so full of responsibilities, work and duties that it feels like an impossible dream. As I grow older I realize it's more important than ever to grant myself the peace and joy of a summer vacation, even if it's just for a few days.
Here are a few things that I like to do to try and stay sane and recapture that endless summer feeling.
Get outside. I try to spend as much time outdoors as possible when the weather is good, especially those hot summer days when sitting in the shade, trying to catch a breeze, wearing a big floppy hat and reading a great book are the only things on the agenda.
Add water to the occasion. A brisk swim in the ocean or a lake is a summer necessity for me. Better yet if I can spend a long summer day sitting by a pool, lake or on my favourite beach. When it's not possible to go to the water I have been known to stick my feet in a wading pool or run through a sprinkler. It's all good.
Eat something juicy. I love summer fruit and living where we do we have access to so many amazing local fruits and vegetables it would be a shame not to indulge. Ripe, sweet cherries heavy with juice from the Okanagan, peaches, plums, watermelons, and berries all feel like summer to me. Fresh corn on the cob from the Fraser Valley takes me right back to my childhood when we would ride our bikes to the farmers house down the street and buy freshly picked corn from a table manned by the youngest of the farm folk. Could there be corn so sweet anywhere else in the world?
Share time and food with friends and family. Picnics, barbeques or cocktails and snacks on a restaurant patio are all great ways to wind down, relax and enjoy the warm weather and warm friendships.
Enjoy a refreshing cocktail or a yummy fruity drink. Whether you like to add alcohol or keep it "virgin" there's nothing like a frosty glass of something icy cold on a hot summer day.
I know everybody has  different ideas and different realities to contend with, for example, I don't have children so I can indulge in my own fun whenever I like but I reckon if I had kids it would be a blast to try to recreate some of my past summer joy for them.
What is your favourite summer memory?
What takes you right back to endless summer?