Like most retailers, we appreciate our customers' opinion. We love social media engagement and it's always such a great feeling to know that we have so many fans and customers who regularly follow us, love our dresses, as well as engage us directly with DMs and PMs and comments. (oh my!)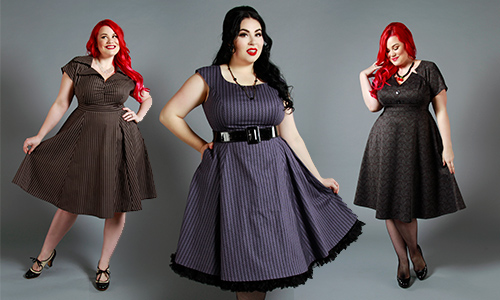 Recently, we've received some feedback from our regular customers that they would like to have more subtle, subdued prints. Now, if there's one thing we can boast about here at Cherry Velvet, it's that we've always prided ourselves on Retro-inspired unique, eye-catching prints. What's a designer to do, when their customers are asking for the opposite?
Well, give them what they want, of course! But with a Cherry Velvet twist <3
This season, we're proving that subtle can still mean sensational with new prints that have "un peu" pizzazz (that's French for "a little bit"!). These looks reflect a softer, more low-key vibe that gives you more opportunity…
…More opportunity to accessorize and wear as often as possible!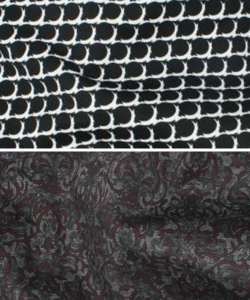 With the unique notched V-neckline & heavier weight fabric, this style is splendid with boots and a cardigan to stay chic in the chill or with statement jewelry for a night out!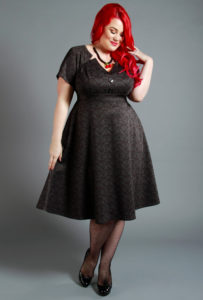 Our Heirloom Tapestry print is a grey toned look, featuring a sophisticated damask pattern of black & burgundy.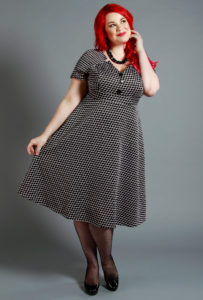 Our Eclipse Dot print is a modern take on the polka dot, with little off-white "half moons" instead of a full dot against versatile black.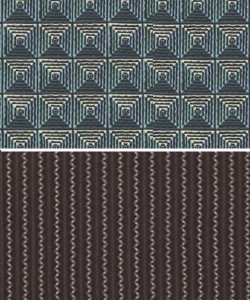 The lapel collar and darling short sleeves makes this a lovely choice for the office. Throw on some sexy heels & a cute purse and you're ready for drinks after 5!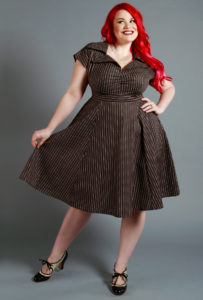 Coffee is the new black! Our Coffee Swizzle Print features a faint, creamy "squiggle" pin-stripe pattern against an Espresso-toned brown.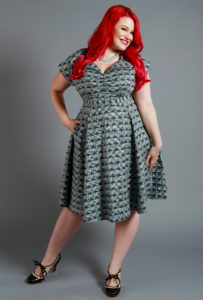 The Pyramid Scheme print features flattering, low-key tiles of "3D" pyramids in blue tones.
With the wide, yet modest scoop neck, this demure yet dazzling style includes sweet cap sleeves, for those who want a little more on the shoulders, but not a full short sleeve.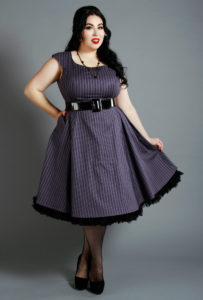 This classic print featuring yards of vertically descending, violet ribbon. The pattern is so delicate it almost looks like it was embroidered!
If you're able, check out all these all lovely dresses (as well as every other dress we have!) up close by booking a personal shopping experience at our Showroom in East Vancouver.
We are available Monday-Friday, 10am-4pm (by appointment only). If a weekday visit isn't in your cards, we also have a block of upcoming Studio Shop dates in November from the 17th to the 20th. More details to come but definitely save those date(s)!
See these dresses & rest of our collection here!
XOX Cherry Velvet