Every Spring season, a flurry of new makeup collections launch alongside the Designer collections at the Ready-to-Wear Fashion Runway Shows. After the dark and muted colours that dominate most Holiday and Winter Collections, Spring is the perfect time for brighter hues to emerge. This season's makeup trends seem to have one thing in common: a cool feminine Pinky-Lavender hue, strategically placed on one facial feature that will really make you shine.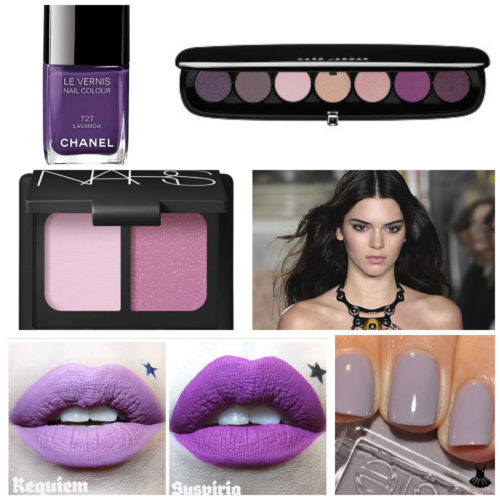 Lipstick and colour trends seem to go hand in hand. One of the most popular Spring beauty colours that have popped up everywhere is lavender. Colours like very blue-toned pinks or a light lavender, like the Studded Kiss Lipstick Collection by Kat Von D at Sephora, are a bold statement yet can be combined perfectly with a simple winged-eyeliner look. Purple and pinky eye shadows, and their tints and shades, were also all over the Spring 2015 runway shows. Either a simple shadow-y plum/purple hue on the lid or an all-over lavender mauve shade all around the eye.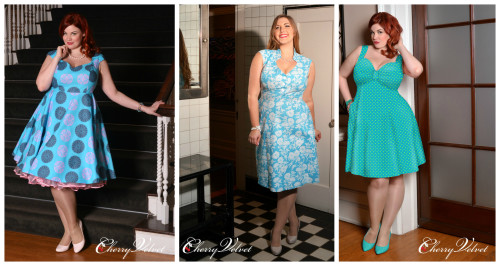 Brighter shades of pinks are also popping up in eyeshadow palettes. Pink eye shadow gives a fresh look to the eyes and can be warm and youthful looking. If pink feels too bold, try layering pink eye shadow with a more lavender shade. When using a more bold shadow look on the eye, keep the lips more neutral by using a clear lip gloss or a nude-coloured lipstick.
While baby pink nails are always in style, this summer why not try lavender or bold purple nails for a bit of fun? It's all about being feminine without being too showy. Nails done in Essie's Nice is Nice offer a pretty alternative to a pink neutral and pair perfectly with Cherry Velvet new release dresses Brooke in Turquoise Medallion or Robin in Lime Dot. Add a perfectly winged cat-eye and a lavender lipstick for a  fresh Spring look.
As much as we adore classic red, plums and coral shades, lavender makeup hues are a way to try something new! Which makeup looks are you going to try this Spring?
XOX Cherry Velvet