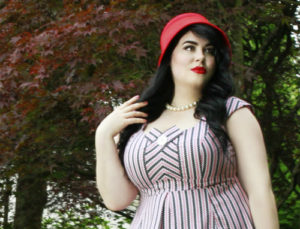 It's common knowledge that the fashion industry is always ahead of the seasons and Cherry Velvet is no exception! Even though summer feels like it just started, we've hit the ground running on next season's collection. No easy feat in heels & a crinoline 😉 #likeaboss
Fall is but a few short months away, so we took the time to sneak in a visit to our favourite (not-so) secret spot in the city, Momiji Garden, to shoot a few new dresses that we will be releasing when the seasons change…
During the design conception phase, we reached into the Velvet Vault and remixed a style we've carried in the past; our lovely Shimona (named after our favourite Pin-Up photographer & friend, Shimona Henry). While the original Shimona had full length sleeves, this year's Shimona features its signature Peekaboo collar neckline and opts for sweeter, shorter cap sleeves.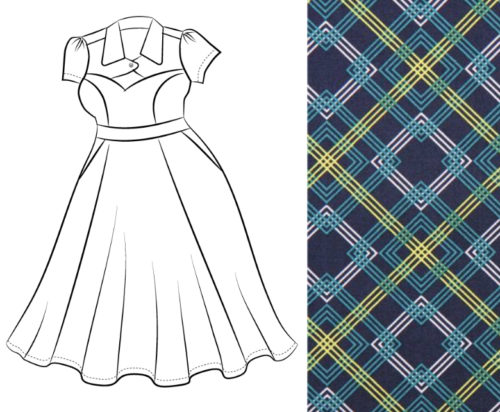 We're looking forward to offering The Shimona in four gorgeous prints for the Fall, but we love how the hint of chartreuse adds pizazz to the classic plaid print. Don't you agree?
With its adorable neckline detail and front box pleat,  our Kate Dress has been one of our favourites for a few seasons now.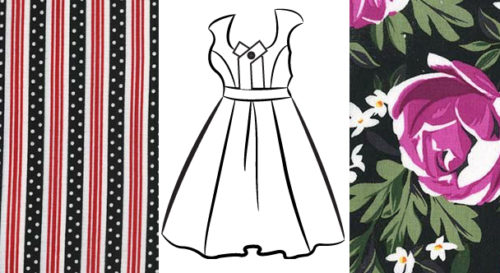 This coming season, we are offering The Kate in FIVE stunning prints! We're so excited about designs like the Floral Noire & Ticker Tape (picture above), they have so much nostalgic flair!
We've talked about them before, but have you seen our brand new necklaces? Our signature Cherry necklaces are now available for purchase! We thought we'd tease you with how they look with a couple new prints, Chocolate Galaxy and Paintball. Keep an eye out for them this Fall!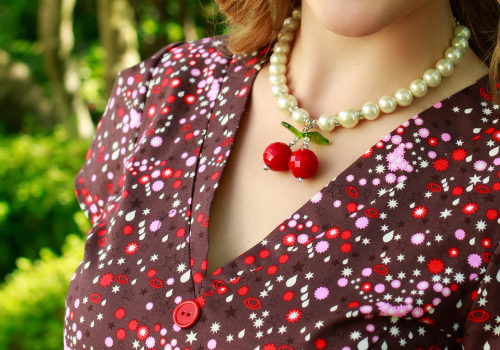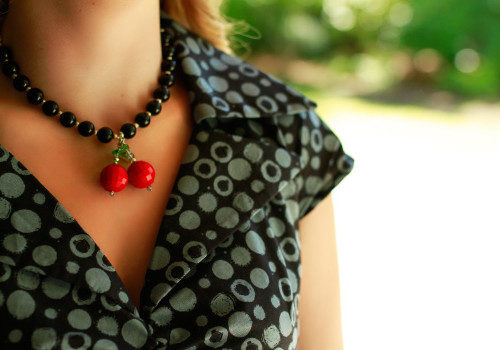 But you'll have to keep watching our site (and/or follow us on FB | IG | Twitter) if you want to see the entire dresses!
We can't wait to share these and the rest of our Fall Collection.
We're shakin' like Autumn leaves with excitement!
XOX Cherry Velvet