I have always wanted to dress up in a beautiful, retro inspired wedding dress. Lots of girls dream about their wedding day, and for many, it's all about the dress (and saying yes!). I love pinup fashion and integrate it into my everyday life, so it would only be natural for it to be featured front and centre on the very biggest day of my life; an honoured guest on a glamorous, special occasion.

Wearing a retro inspired wedding dress means the photos in my wedding album would have the look and feel of my grandma's own album. It would be my own sentimental homage to the enduring quality of a love that has weathered the decades, untouched by time.
A vintage inspired wedding dress is magical because it has a timeless, romantic look. My own dream dress would be flirty, tea-length, white and sleeveless. Or maybe it would be a delicate ivory swing dress with a full skirt and a crinoline while I twirl to the music with the love of my life. It would be something simple and effortless that I could wear while sipping pink lemonade at a backyard reception in the sun; something that would look equally at home in a luxurious ballroom lit with dazzling chandeliers and a big band playing for the first dance.
A vintage style wedding dress is the ultimate "something borrowed". Brand new – but borrowed from another time. It feels so good to relive the very best of another era and reintroduce it to an adoring congregation of guests and well-wishers.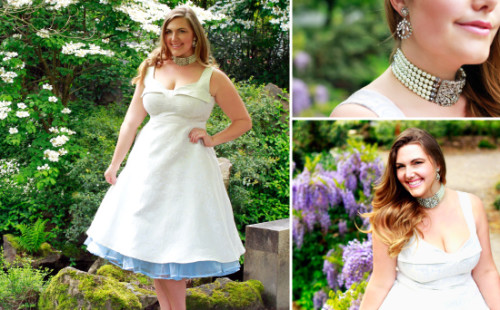 Some of my guests just wouldn't be able to join me and travel to a paradise far away to see me happily wed. A retro inspired wedding dress could be my ticket to the destination wedding of my dreams. Instead of the sands of Cuba, I can enjoy the matrimonial bliss of a ceremony that takes place in an era of wholesome decadence.  The past would be my destination wedding location, no passport required!
I would love to pair the vintage inspired wedding dress of my dreams with the man of my dreams. I want to take some incredible pictures looking all timeless and romantic. I want to savour the luxury of my "something borrowed" at a retro chic destination far away. All I have to do is say "yes!" and invite pinup fashion to the biggest day of my life.
XOX Cherry Velvet
Guest Blogger Alison Tedford from "Sparkly Shoes and Sweatdrops"
@Charlotte Curve Model is wearing Elly Ivory Pearlized Jacquard and a pale Blueberry crinoline . Beautiful jewelry provided by Mirror Mirror Bijoux