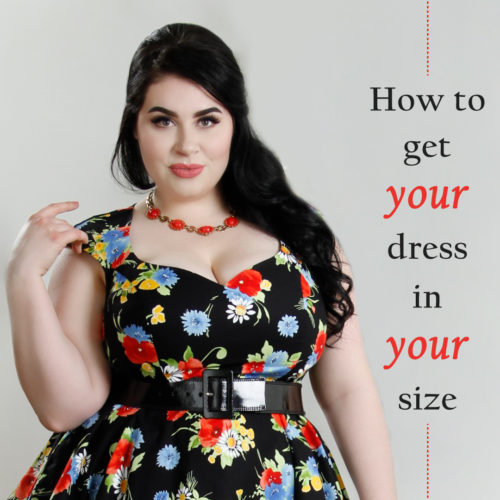 Are you often frustrated when you can't find your dress size? We're here to explain why you occasionally might not see a dress in your size and what you can do about it.
While we do our very best to offer the widest selection of dresses possible,  it all comes down to the ratio of sizes. You may or may not know that most companies cut their production of clothing in a ratio. The majority of units cut will be in the most popular sizes (middle sizes) and the smaller and larger sizes will receive fewer units. This is common practice in the clothing industry and it's also how retail stores order clothing for their stores, too. The way to change this is to make your opinion heard, which ultimately means supporting the brand that carries your size by buying your size.
We always pay close attention to our customers' needs, however, changes can take some time (a season or two) to implement. We've recently noticed a lot of size 3X's selling, so we're making a pointed effort to carry more of that size. We're also getting a lot of feedback from customers asking us for a size 4X, and so we've gone ahead and offered more 4X sizes for this season. If you're a 4X and like our dresses, we have a great selection in your size!  Here's what we're offering right now in 4X.  We've definitely made more plus size dresses this season over last season when we tried offering 4X for the first time. When the demand increases, we'll offer more dresses and more prints, however, currently our supply exceeds the demand.
As a boutique online retailer, we cannot make masses of dresses in each print we offer. We usually make 25-40 dresses per each unique print and those units get divided up over the sizes we carry. That's not a lot of dresses per size and, unfortunately, some sizes can sell out quickly.
To avoid any disappointment, please consider ordering these sizes early in the season. As we see an increased demand, we'll add more units in 3X and 4X. We truly care about our amazing customers and do our best to respond to all your requests.
We're releasing a Customer Survey soon and would love to hear all of your ideas, feedback, and comments!
We want to know what sizes and colours you'd like to see!
XOX Cherry Velvet