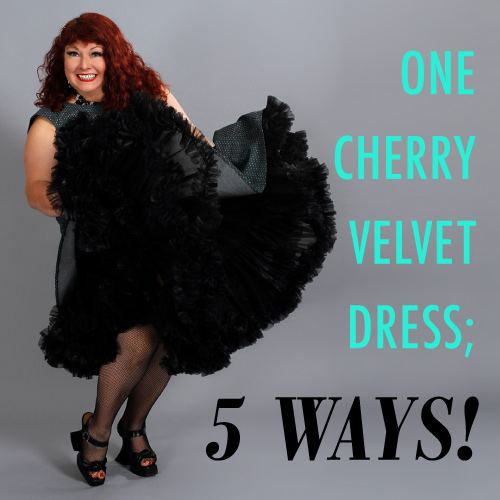 Finding different ways to wear the same dress is not only a great way to add your own signature style to your outfits, it's smart too. Our designer Diane, dug into her closet and put together these 5 ways to wear one Cherry Velvet dress with a classic scoop neck Olivia frock and her own accessories.
Along the Promenade
Sometimes simple is best. A sun hat and comfortable shoes for strolling is always the way to go. The Olivia dress looks great with a longer necklace, like this vintage jet (black glass) find. "Vintage" Fluevogs, Coach Bag.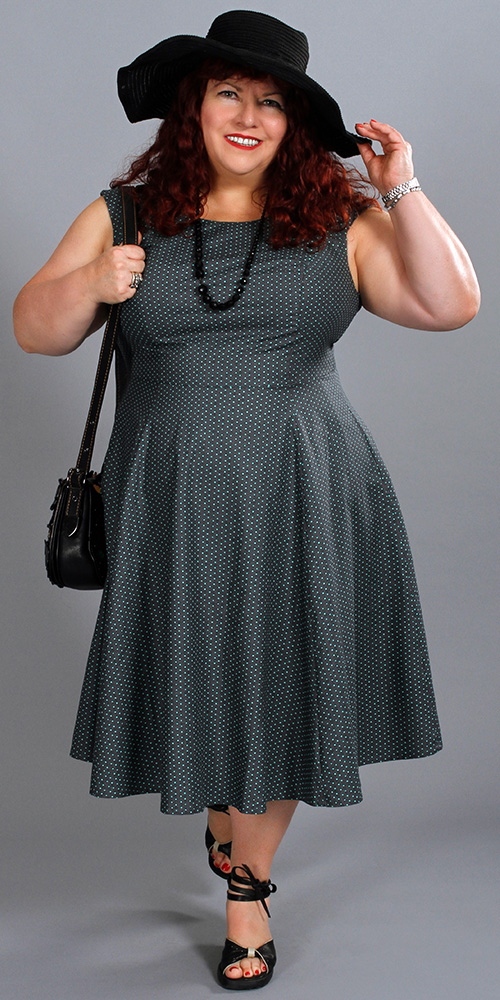 To the Office
Pretty much every Cherry Velvet dress can be worn to work in the Fall with the addition of a cardi, tights and boots or flats. Add a little personality too, like this vintage style brooch (under the hair). Lands End Cardigan, Fluevog boots, Diane Kennedy Rejuvenate Leggings.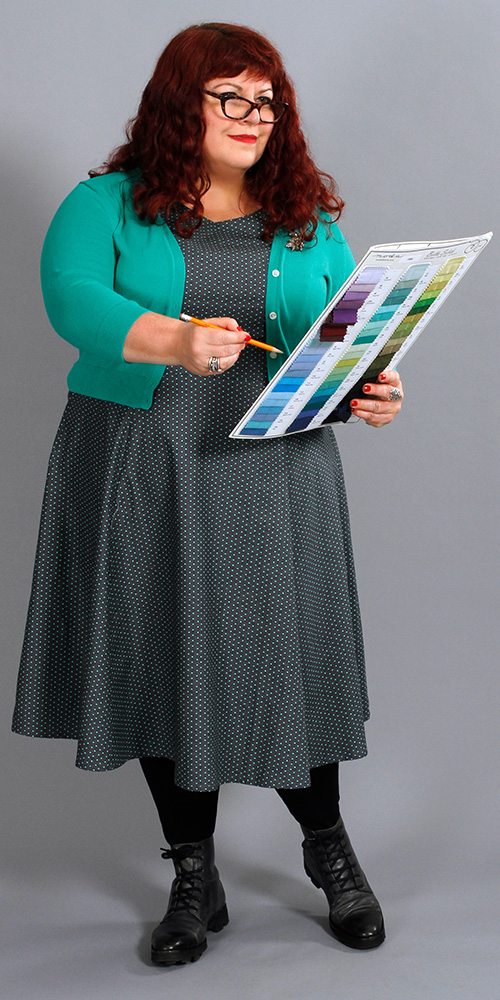 Brunch with the ladies
It's easy to put something over your dress, like a shrug or a cardi. But don't forget you can also wear something under your dress like a blouse, long sleeve top or t-shirt. Experiment to see which works with your dress. For this look, Diane chose a slightly less full Lace chiffon crinoline. Coach Bag, Fluevog "Purity" Boots.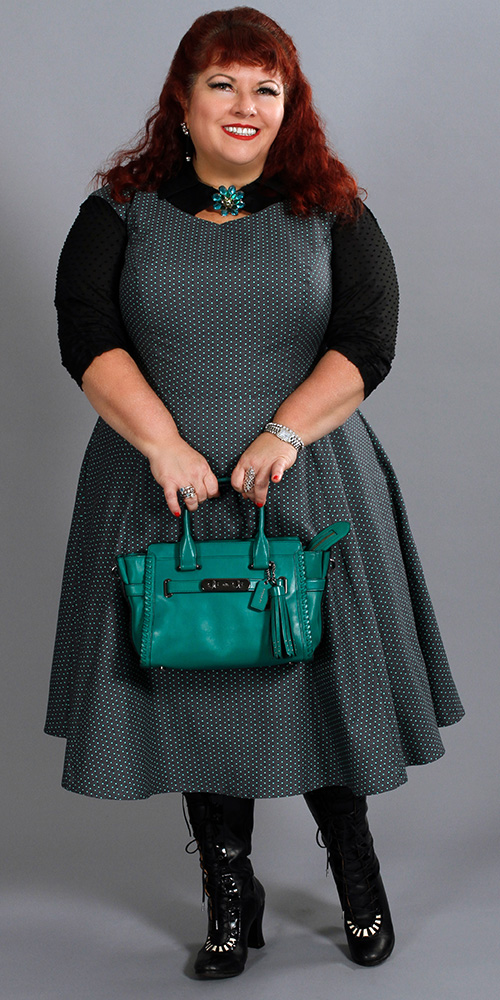 Dinner Date
A feminine frock is a perfect way to match your outer beauty with your inner confidence. For date night, a li'l sparkle always goes a long way.  Then add fishnet stockings, heels, and your best smile 🙂 Fluevog "Deee"shoes, Coach Bag, Brave Belt, Mirror Mirror Bijoux necklace, Vintage Chiffon Crinoline in Black Licorice.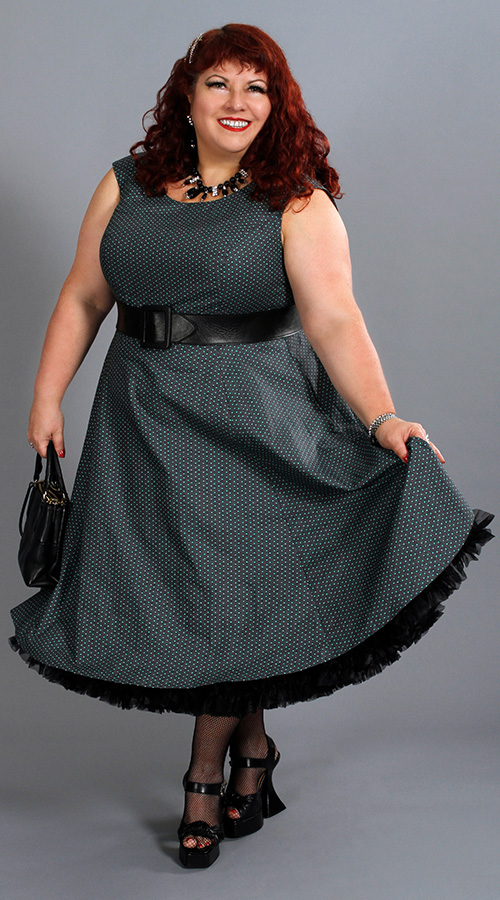 Gallery Opening
Sometimes you just don't want to blend in with the crowd.  Nothing sets the mood for a funky outfit like a hat; this one Diane brought back from a trip to England a few years ago. Here's a fun little trick Diane uses: collect a bunch of your lower skirt including the crinoline underneath and pin it up. You can use a regular safety pin (like she did here), but a bigger kilt pin or a broach works also. Fluevog "Exene" flats, Heidi Daus Necklace, Vintage Chiffon Crinoline in Spearmint.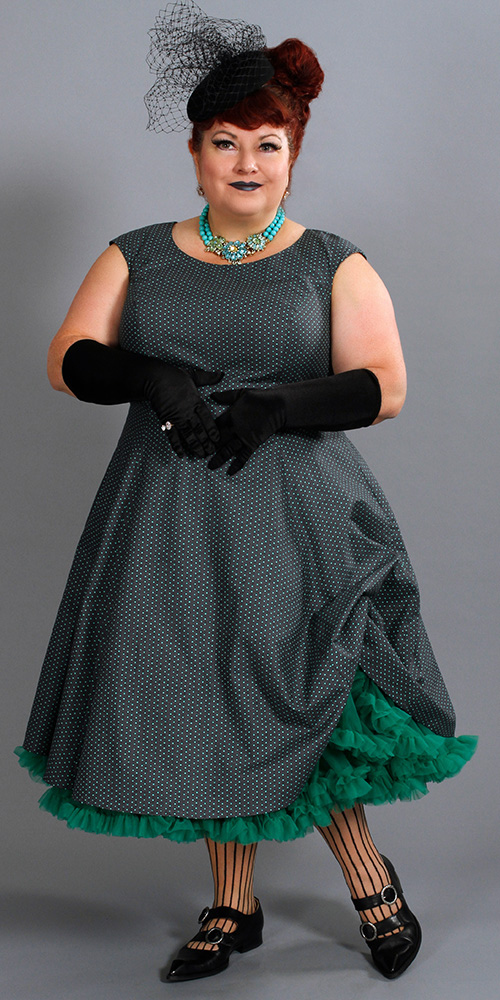 Hopefully, this post will make you look at your own Cherry Velvet dress in a new way. Hunt up some cool vintage accessories, polish up your favourite boots and get ready for fall!
XOX Cherry Velvet