Welcome to the 2nd installment of our miniseries, Livin' La Vida Cherry! We recently added a couple of new hires and think our super fabulous team needs a bit o' spotlighting. After plying everyone with drinks, we threw a few rapid fire questions at them in the hopes of showing off the wonderful people who put the Cherry in Cherry Velvet.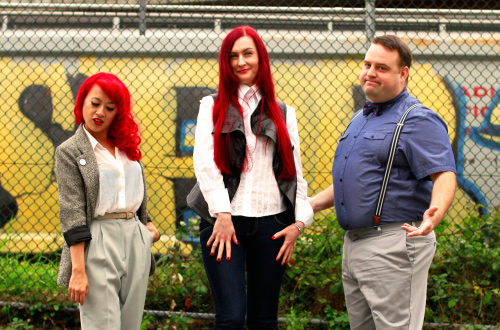 We'll start off with where every Cherry Velvet dress starts, Tatyana, our pattern-maker.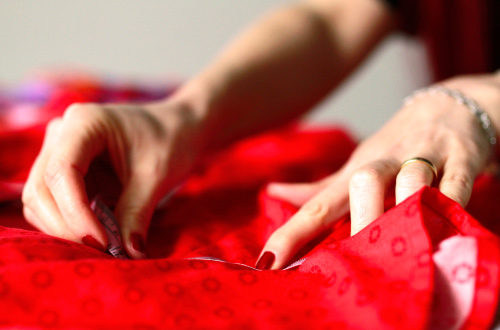 You have a beautiful accent, where are you from?
I'm from Lviv, a city in Western Ukraine. Shortly after finishing my degree in Fashion Design & Pattern Making, I moved to Canada. October marks my 8th anniversary of living in Vancouver. I love being Canadian!
How did you get into Fashion Design?
I absolutely love everything to do with fashion. In fact, I learned how to sew before I learned to read! I got my first sewing machine when I was 5. I started making clothes for my dolls, then moved on to my family and friends. It's funny, my mum used to catch me with scissors, stealing her dresses. I was simply trying to cut & redesign her dresses!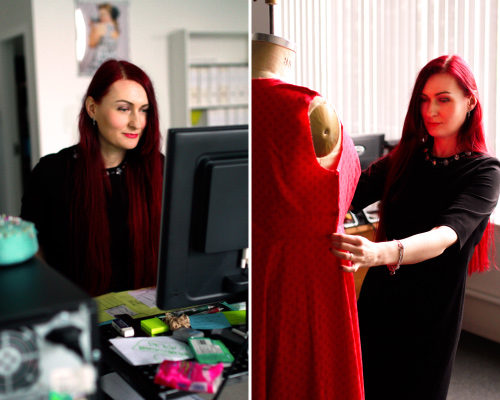 Tell us a fun fact about yourself.
I don't think many people get to get married in a castle, but I did. I was lucky enough to have my wedding held at Olesko Castle and it was beautiful!
What's your favourite Cherry Velvet dress?
I love our Shimona Dress. We put it out awhile back, I think we only have a few left on sale. I just love the patterns it came in.
Now we get to the heavy lifting with our Shipping Administrator, Greg.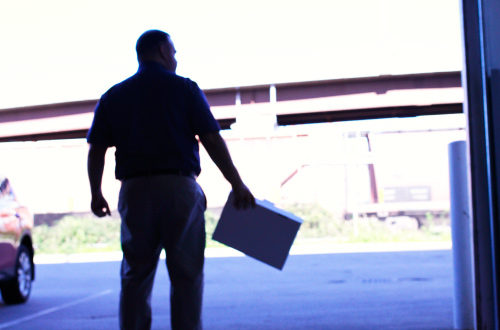 So, pretend you're answering an OKCupid ad. Give us the basics.
Well, come this Saturday, I will be happily married, so I'm off the market, ladies! But I was a good kid, raised in Port Coquitlam, now a good man living in North Vancouver with my beautiful fiancee.
After graduating from the full time writing program at Vancouver Film School, I've been a writer for the last 12 years. I've also trained in Improv Comedy with Second Storey Theatre & Vancouver Theatresports.
When you're not busy filling our orders, what do you do in your spare time?
I recently founded my own comedy troupe, The Radical and I perform regularly with Second Storey Theatre, Geek Interesting & Geeks vs Nerds Vancouver. I'm also a photographer.
What can I say? I like to stay busy and I like to entertain!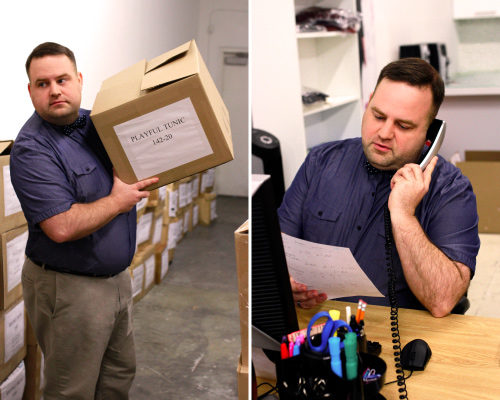 As a man working in a woman's (fashion) world, what do you enjoy most about working at Cherry Velvet?
My favourite part about this industry is promoting a brand that puts women in styles that makes them feel beautiful and subsequently more confident. Ladies, the world needs to give you more opportunities to stand tall!
Share a fun fact with us!
I'd love to, but I'm shipping myself off to Salmon Arm now, expresspost to Happily Ever After!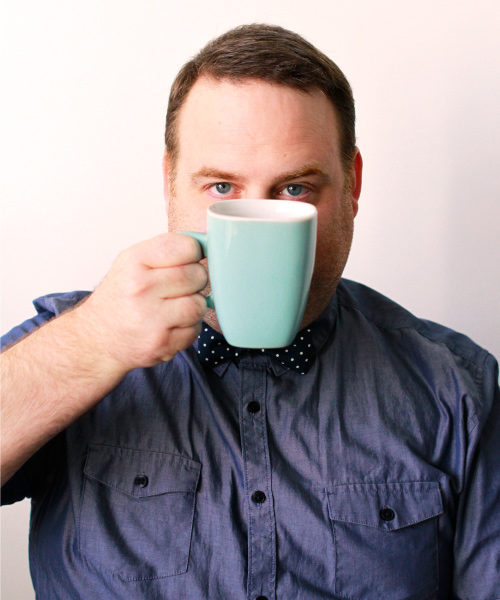 Last but not least, we introduce our resident ball of sunshine & office manager, Jolie Holiday.
(Muggles know her as Tracy.)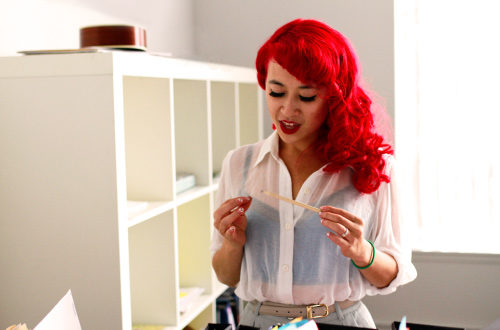 What's in your coffee? How do you stay so chipper?
I drink my coffee black! In all honesty, I'm the kind of person that turns lemons into lemon vodka and would rather look forward with my eye on the horizon than look down behind me. Born & raised in Richmond, BC, I'm just a simple girl from Storybrooke looking to spread some magic wherever I go.
Who are you outside of the office?
I live the Disney Princess life, 27/7 as Jolie Holiday! When I'm not organizing the office or re-enacting Disney songs in my living room, I'm often organizing photoshoots or practicing partnered dancing (Swing & Blues). I also spend way too much time on Instagram.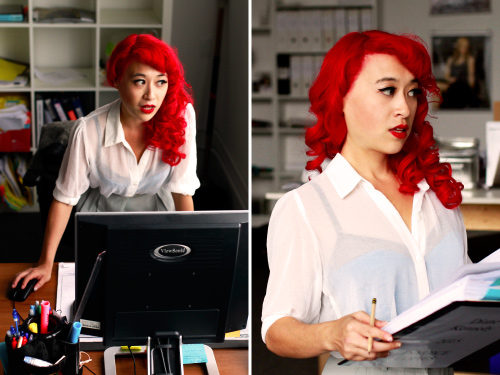 What do you love about working for Cherry Velvet?
I love seeing the delight on our clients' faces when they see how wonderfully our dresses fit them. You wouldn't know it by looking at me, but I have struggled and continue to struggle with my weight. I know how depressing and disheartening it feels to have to settle for comfort or confidence boosting style. I love that Cherry Velvet takes care of both for our clients. It is incredibly inspiring to work for a brand that promotes the idea of #stunningatanysize
Any fun facts to share?
Every Friday, I put together Disney-inspired outfits and make the Cherry Velvet team guess who I am. If they guess right, I bring them treats the following Monday! It's a bit of a hobby of mine both in & out of the office. I call  it "Undercover Disney" and you can follow my adventures with it on my Tumblr.
What's your favourite Cherry Velvet dress?
It's got to be my Brigitte in Black Cats. I love cats and this particular style is cut a bit shorter than our other styles, which makes it perfect for my 4'10 stature! It was such a hit on my most recent trip to Walt Disney World.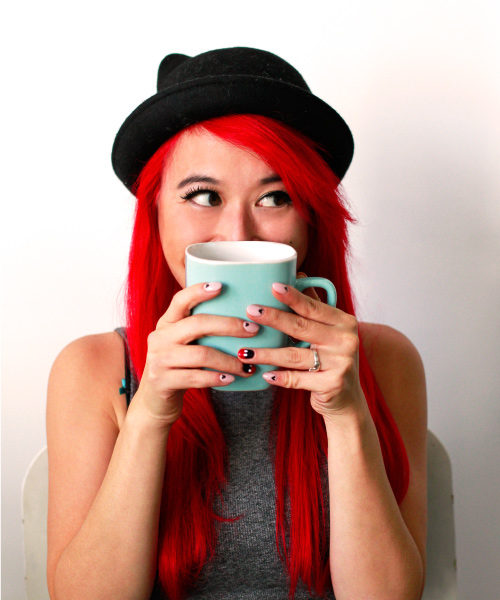 And thank you to our wonderful Art Director and sometimes photographer, Logan Rudrum. Check out the spotlight we did with him awhile back!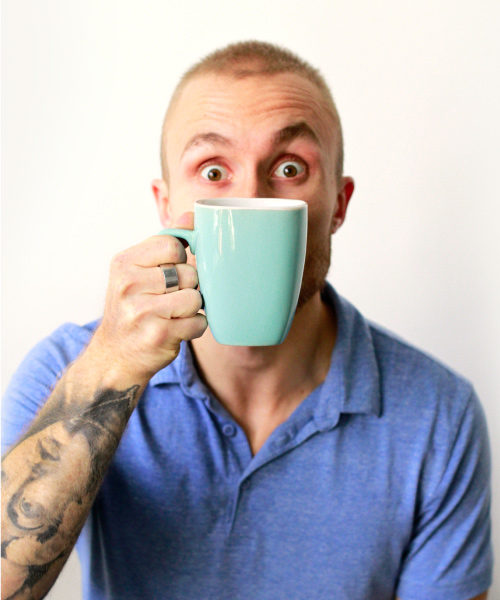 Now you can see why working at Cherry Velvet is the sweetest. Stay tuned for our final installment of Livin' La Vida Cherry, where we interview our designer, Diane!
XOX Cherry Velvet