Have you ever admired the effortless poses of our models and want to know how they get that look? I've got some insider photo tips for you!
 The Eyes Have It
I know with me, when I make a true happy smile, my eyes pretty much disappear into squinty slits. One way to avoid this is to keep your eyes closed until just before the shutter clicks. One, Two, Three…Open. Another trick is to squint a little with only your lower lids. It's a bit tricky but practice will help and your smile will look more natural.
Say Oustiti!– (French for 'little monkey')
Don't say cheese, instead get someone to make you laugh off camera. Think about something that makes you really smile or even laugh. A real smile is more than just showing your teeth and a smile with no emotion in it can look…a little creepy. That's why it looks better when we smile with our eyes too.
Chin(s)
If you want to avoid looking like you have more than one chin there are a few tricks you can use. Avoid having the photo taken from below your chin. Raising the camera above your chin is a great way to eliminate multiple chins. (but not too far, if your legs are in the photo they will look shorter) Try to stretch your neck and then lower your chin and stick it out a little. Now try pressing your tongue against the back of your top teeth. This feels pretty unnatural at first but it does actually work.
Body Check
Practice good posture by imagining your whole body lifting up from the top of your head;  shoulders back, bust out, tummy pulled in and stick your butt out a little. You've heard it before, but this makes all the difference in a photo!
Try turning your body about 45 degrees away from the camera so that you have one shoulder closer to the camera than the other. This way you're body is at an angle and your face is facing the camera.  Put the camera facing arm on your hip, that way your arm isn't squished against your torso. (Arms that are tight to your body flatten out and look larger)
Positioning your arms a little away from your body and having them slightly bent or placed on a hip (or in one of our pockets) looks more natural than hanging straight at your sides.
She's Got Legs
With your body at 45 degrees, plant one foot slightly in front of the other, point your toe to the camera and place your weight on your back leg. Another great pose is  to cross your legs at the calf little will have a similar effect of making your hips look narrower and your legs look longer, plus it looks a bit more casual.
It's always preferable to stand in pictures. But if you happen to be on a chair or a couch when someone wants to take your photo, sit up straight and cross your legs at the ankles. It'll be much more flattering than not doing anything.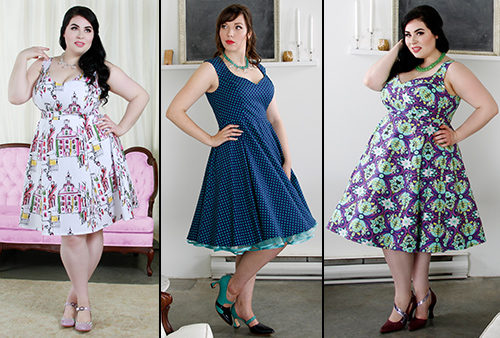 That's it! Easy and totally natural right? lol
These are all great tips but chances are you won't put them all into use every time someone pulls out a camera. In this day and age when everyone has a camera on their phone my best tip is…take lots of pictures, lots and lots.
XOX Love Barb
Links to the dresses in the photo from left to right: