You've chosen your colour and ordered your knee length crinoline from Cherry Velvet! With visions of puffy frills in your head, you might be a little surprised when you get your box in the mail. How the heck did they fit that much floof into such a small box? Your crinoline has been folded and rolled to fit in the box for shipping and it needs a little love from you when it comes out of the box. Don't worry, it's as easy as 1, 2, 3…
We've made a little video to show you how to care for your crinoline from the minute you open the box until you slip it on under your favourite frock.
A frilly crinoline is a great way to add a little something special to your Cherry Velvet dresses. A full skirt with a matching or contrasting colour peeking out from under it can turn a special dress into something spectacular. If you are thinking of adding a crinoline to your vintage inspired look, we have you covered. You'll feel special, we promise!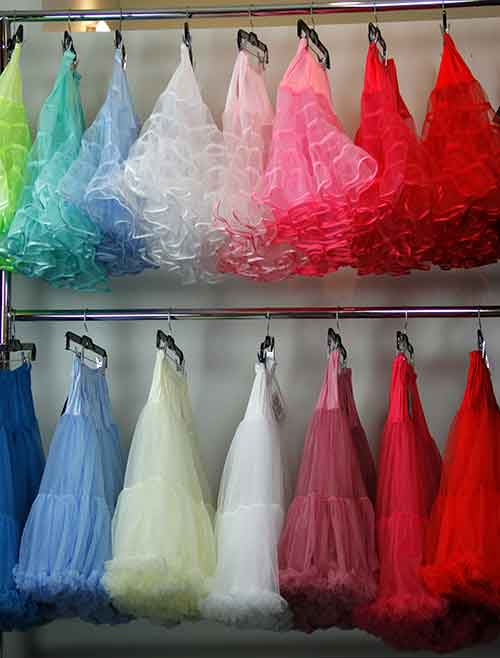 If you're wondering, we also carry other crinolines that are made of nylon chiffon. Our Lace Crinoline or our Vintage chiffon crinoline will not arrive quite as wrinkled as the Knee length version in the video. Just hang it up and in a few days whatever wrinkles there were, will be no more. Please do not try to steam or iron it as it may cause damage. (Nylon can melt with too much heat!)
Washing instructions: 
Hand wash in warm water then hang to dry. Please do not use bleach.
If you have any questions or need help choosing a crinoline to match your dress, please feel free to e-mail us @ cherryvelvetplus(dot)com. We're happy to help anytime!
XOX Cherry Velvet