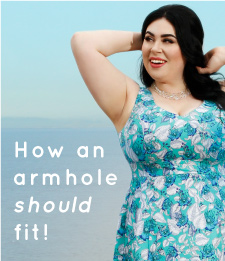 Nobody really likes to think about their armpits – or their arms for that matter.  But with arm-baring dress season upon us, we'd like to share our knowledge about how an armhole is supposed to fit. If you're plus size, inbetweenie, or just larger in the chest, this is an area that you may want to pay close attention to. We want to show you exactly what to look for!
A proper fitting armhole should hug close to your body without gaping or cutting into you uncomfortably. It's a common misconception that having bigger arms means that you need bigger armholes. Arms typically narrow toward the shoulder, so having a larger arms doesn't dictate your armhole! While you should be able to run your finger around the opening, you definitely should not be able to fit your hand in there. A proper fitting armhole does not gape open; it should lie smoothly all around your armpit. It should be high enough under your arm to cover your bra but not so high that it's digging in.
To get a really great fit in the armhole, the patternmaker must build "bust darts" into the pattern.  What you may not know is that darts are what shape flat fabric into the contours of the body. A basic dart is shaped like a long pointed triangle. It's wide at one end and narrows at the other. On many modern designs, the 'dart' is often incorporated into a princess seam, gathers, or pleats instead to achieve the proper fit as well as a desirable dress design. Here are some examples of our dress patterns showing the front shaping and armhole area: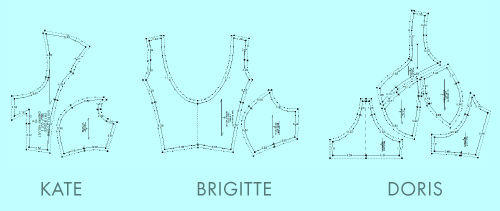 Here are a few examples of a proper fitting armhole. You'll notice how there are no spaces or gaps: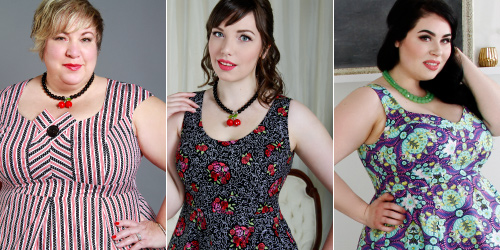 The thing is, it's important to know the difference between something that fits properly and something that just doesn't quite cut it. You're worthy of this knowledge and it can only lead to you being seen as a snappy dresser that always looks pulled together because, among other things, your clothes fit properly.
Hopefully, we don't need to tell you where to find amazing fitting dresses that fit your lovely curvaceous parts and delectable armpits……because we think you should love your body…yep, even your arms and your armpits!
XOX Cherry Velvet