Curiouser and curiouser…Everything's turvy topsy at Cherry Velvet and the muchness of it is hard to ignore. We have a new arrival to the Cherry Velvet Tree, featuring splendiferously florid prints created by Tula Pink, an illustrator-cum-fabric designer from the sunny land of California.
Introducing Alice, our latest and most darling yet. By happenstance, on a very un-ordinary day, we caught Alice as she was falling down a rabbit hole (as she oftentimes did). We jumped at the chance to send her spinning in our direction and with great haste, she wasted no time in filling our wondrous world with brightly coloured foxes and chipmunks and parrots (goodness gracious!)
Now it's your turn to see through Alice's looking glass and into the realm of chimerical charm…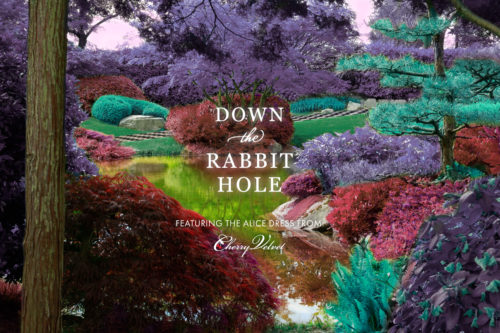 Alice sees everything polychromously; On several occasions in a day, she will find herself in a world of her own, all pink and floral, looking up at a turquoise sky. Matriculating with cheery chimpunks, all fuchsia-flushed.
But in the blink of an eye, grayer becomes the sky! And Alice's eyes spy shades of jade, changing the scenery to greenery!
And while most are working hard, spending their days with responsibility and chores, our little Alice spends her time laying in an aqua grove daydreaming. Today, she envisions napping foxes in sunset hues, among dainty blossoms nestled in between creeping branches of playful vines…
…And she imagines regal games of croquet, while a sneaky Cheshire cat observes.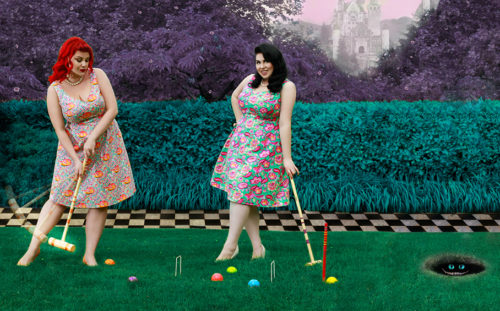 We hope you enjoyed this whimsical look at Alice; find her and many more magical, vintage & retro-inspired looks at Cherry Velvet.
And even though Alice often believes in as many as six impossible things by breakfast, she doesn't believe in size exclusivity. And neither do we! Our line is all-inclusive and we carry all sizes from XS-3X!
View all the full size pics in this photoset here!
XOX Cherry Velvet