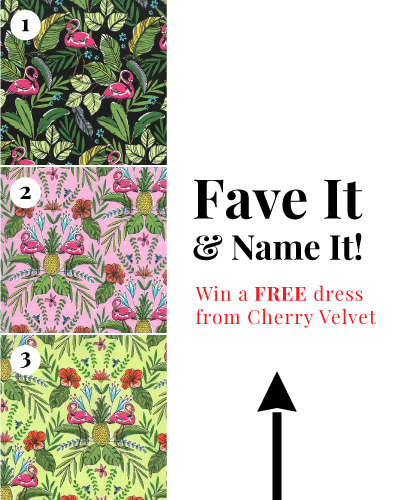 Even though we just started our Summer, the fashion industry is always a couple seasons ahead. Here at Cherry Velvet, we're already busy as bees designing for next Spring! We love how popular our Flamingo Prints have been and happened to come across these designs to the left while we searched through our fabric libraries!
We simply couldn't decided between these choices and thought this would be a great opportunity to reach out to all our Cherry Velvet girls to get your opinion!
We're even going to sweeten the deal with a chance to win a FREE DRESS!
Here's how to win!
Pick your favourite fabric (#1, #2, #3)
Name it!
Share this post on your social media!
The winner will be announced on Friday, July 15!
Good luck!
XOX Cherry Velvet