It's Cherry Picking season!
Hi, I'm Barb! I have had a chance to form some opinions and discover some of my favourite frocks in my first few weeks working at Cherry Velvet and I want to share them with you.  I've worked in the Plus Size clothing industry for many years now and being a Plus Sized woman who doesn't do frumpy or boring, I'm thrilled to have landed in the perfect spot! I am surrounded by adorableness all day long and I see potential in every style and print so picking only three was harder than I thought it would be. Cherry Picking is all about choosing the sweetest, juiciest and plumpest fruit and that's exactly what I tried to do here. Enjoy!
This dress is just so flattering! Honestly, I normally wouldn't think a bold floral like this would be my first pick but I was taken in with the beautiful coral red with subtle pops of green. I love wearing anything with a little green in it because it sets off my green eyes. This dress fits like a dream and has the perfect amount of coverage at the bust and the little sleeve. I feel like this dress is perfect for attending a summer wedding or dance. Who wouldn't want to make that skirt flare while twirling around the dance floor? Honestly, a gal could get married in this dress—it's that special.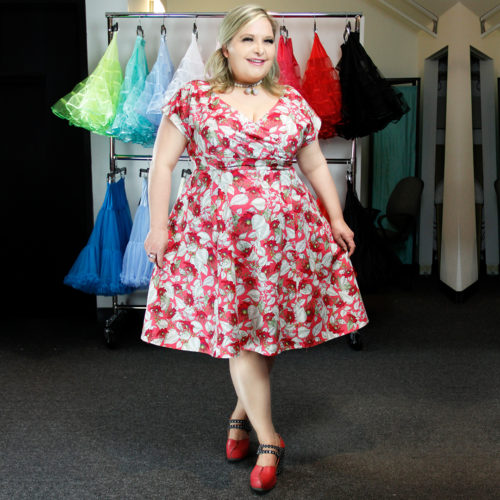 I LOVE this print!! Vintage cameras of all shapes and sizes and not a hint of "Cheeeese"! The colours are amazing, too. I adore the combination of acid green, orange and aqua. These are the ultimate classic "old school" shades that remind me of  60's and 70's retro modern trends. Yes, I am old enough to remember that era, thank you very much! The little collar and three button detail on the front are so stylish and give this dress a classic, crisp feel. I would wear this dress to an art opening or a cocktail party, or… anywhere, actually.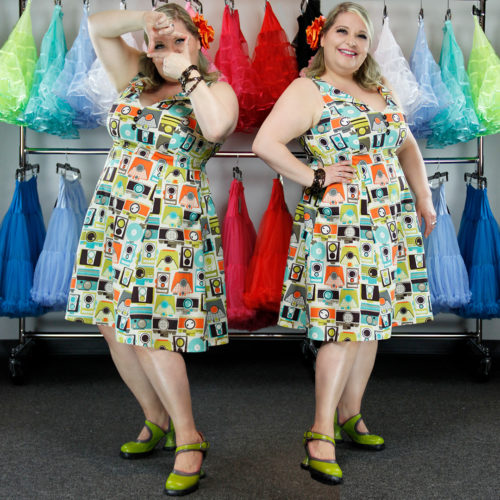 Once again it was the print that made me choose this dress. I love the cut too, so much so that I chose two different Danielle dresses in my picks. This rich coral background with creamy flowers, green leaves, and bright red cherries is just perfection in my opinion. This dress takes me back to Hawaii with its warm tropical hues. The colour is so flattering to my skin tone and I can't wait until I can wear it when I have a bit of a summer tan. Delicious is the word I would use to describe this dress. Now, where is that Mai Tai I ordered?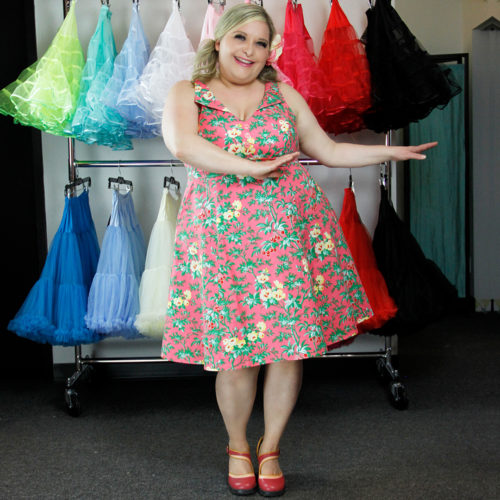 Come visit me at the studio sale this weekend!!
→ Fri. Apr. 21 2-7pm
→ Sat. Apr. 22 11am-5pm
1635 Powell St. Vancouver, BC
(Street parking available right out front and in the lot off Woodland Drive beside the Flag Shop)
Love Barb for Cherry Velvet XOX