"Joy is the simplest form of Gratitude" ~ Karl Barth
Thank YOU to all the beautiful people who are reading this, and for making us what we are today. Without you, we simply wouldn't be here. It's been a pleasure to serve you and make Cherry Velvet just for you, our Classy Sassy customers!!
It fills our hearts with Gratitude and Joy to read things like this:
"I've been wanting to say thank-you for making such amazing dresses. As a girl who's been plus sized and tall my whole life I'm not used to being complimented on my fashion choices or appearance. Since I discovered Cherry Velvet dresses and crinolines, I walk out of the house feeling like a million dollars every morning, I rarely wear jeans anymore and I'm starting to be less shocked when someone compliments me 🙂 I seriously got up one Friday morning in November when I was going to a volleyball game later in the day and thought, "hmm I think I can totally rock a Cherry Velvet dress and a crinoline with my tall boots at the game" instead of just pulling on jeans. *YAY!* And I love that Cherry Velvet is made in Canada and that so many of the dresses are high quality 100% cotton (I've been trying to move toward more natural fibres in my wardrobe and less rayon and polyester — which is a tall order for plus sizes).  Thanks for giving this plus-sized girl a whole new level of fashion confidence :-)" T.H.
"Wow is all I can say. I received my dress today… Early as a matter of fact … and Wow .. I LOVE IT .. it fits so perfect and looks absolutely gorgeous .. I cannot wait to wear it out and about to show it off. I will admit I was very nervous about spending that kind of money ( I have never spent that much on one article of clothing)… The fit and finish are stunning… it is totally worth it, every penny of it. I will be shopping with you again in the near future and thank you for everything you have done" A.M.
"Thank you again for making my dress shopping experience awesome I'm so excited now to wear my beautiful Angelina dress on the big day the lady who helped me was great she made me feel welcome right from the minute I walked in I was so stressed to shop for a dress and that completely disappeared when I walked in I still want to thank you again for making me feel beautiful and my fiancee is thrilled that I'm wearing your dresses. All I ever wear is jeans and he's not stopped complimenting me since I put the Lisa dress on when we left your studio. You make more than just gorgeous dresses you helped us make a fun memory and helped me get some self-confidence " A.B.
Your gratitude is truly a gift from you to us! Thank-you for making Cherry Velvet what it is today and we look forward to creating more beautiful items for you, our beautiful customers!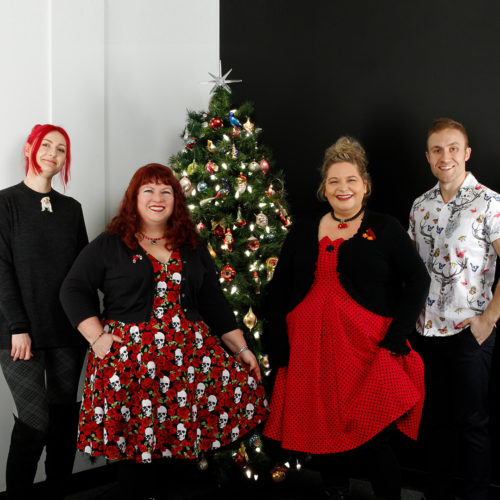 Love the Cherry Velvet Team; Tatyana, Diane, Barb, & Logan