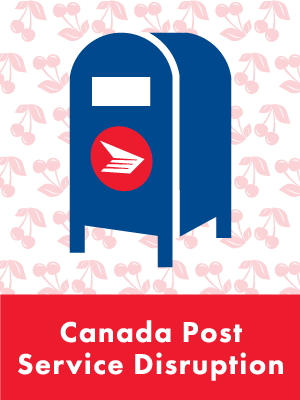 8/31/16 UPDATE
Canada Post has rescinded their Strike notice and service is returning to normal. We will be returning to our normal shipping/exchange policies as of this date!
As a Canadian retail business, we are well aware of the potential nation-wide disruption in service from Canada Post.
To that end, we wanted to let you know that there will be no issues for any orders placed online. We have made alternate arrangements, should Canada Post suspend their services.
Please be advised that when selecting shipping method, Canada Post will be listed, but you will receive a Purolator tracking number. This will incur no extra charges. We will continue to use Purolator for the duration of this disruption.
Exchanges
To that end, Our exchange policy/procedure will remain the same for both Canadian & US exchanges. In order to ensure quick & efficient processing of any exchanges, it is very important that we are notified via email (or phone) to begin the process.
Upon approval of the exchange, we will email you detailed instructions.
Please be advised that any Canadian Exchanges will be responsible for arranging their own 3rd Party courier service to return the item(s) to our offices.
Please note, that US Customers will notice that until the service disruption is over, they will be forwarding their exchanges to a US address.
(our exchange policy page indicates a Canadian address.)
We are happy to field any concerns in regards to this situation, do not hesitate to contact us at info [at] cherryvelvetdresses [ dot] com or call us toll free at 1-877-994-9977.
XOX Cherry Velvet