How's it going, eh? Good? Beauty! So the contest is over and it's time to announce the contest winners, eh! Pitter patter, let's get at 'er. You guys sure are keeners. We don't know if you were fueled by Timmy's or maybe it took a mickey or two to gather the courage, but when you heard the call, you got off your chesterfields and got to work. The hardest part for us was choosing our favourites. They were all totally skookum, so it was super tough, eh. It was just short of a donnybrook here at the studio trying to pick the top 3 entries, but here you go; these 3 were a hard yes. In no particular order…
Jonathan Snow and Brandi Snow
We went out to the Richmond Nature Park with a homemade quilt by Brandi's mother celebrating Canada's 150th, ate some Smarties (a delicious Canadian sweet), and played with Isobel's stuffed Canadian Goose. We made sure that all participants in the photo were wearing Cherry Velvet dresses and eventually showed off my Canadians Ass…though my wife thought it was supposed to be Canadian Sass!!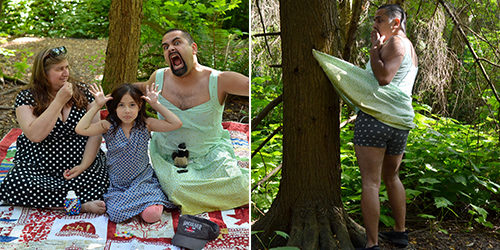 Farideh Olsen
"I thought long and hard about a deeply Canadian thing to do. Stand in an open field? Go through a Tim Horton's drive-through? Hold a sign that says "I'm sorry"? And then, of course, there was maple syrup.
None of them would do.
In the end, I felt that an RCMP officer would make the PERFECT accessory for my beautiful dress.
I had to interrupt him on official business.
However, once he saw my ravishing apparel, he happily obliged."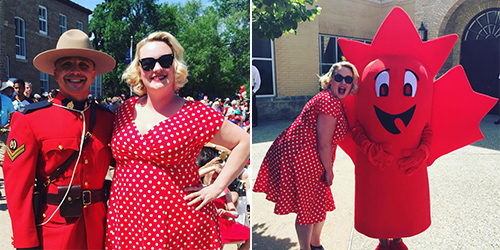 Janice Kurylowich
[A] Couple of my favourite Canadian eats, Nanaimo bars and a Caesar… maybe not the best combo, but hey, it's sweet and savoury! Here I am petting a beaver!! Lol, Canada's national animal 🙂 My daughter thought that it would be great to go on down to the Made in Canada exhibit at Science World, so here I am, a keener for Cherry Velvet!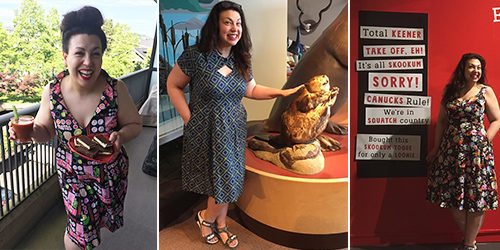 Holy Cow, you guys really ran with this theme. We said "give 'er" and you guys hurried hard!  Who would ever believe there could even be so many purely Canadian moments captured by you, our loyal customers?? Well, we sure do believe it now and we have the photos to prove it. To see all the contest entries, please check out our Facebook album here and show these girls some love (and likes) too!
There were so many wonderful contest entries, we want to reward ALL our beautiful customers with a little token of our appreciation! (check your inbox next week!)
And, before we forget, here's one from our neighbours to the south….thanks, eh!
Jennifer R. Prichard: Here am I celebrating Canada's Sesquicentennial in with three of my favorite Canadian exports: CC, #CherryVelvet & the incomparable Margaret Atwood.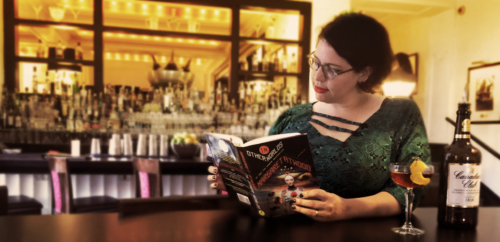 Thank-you truly from the bottom of our hearts for all these amazing entries, eh!
Love you guys!!!
Team Cherry Velvet XOX