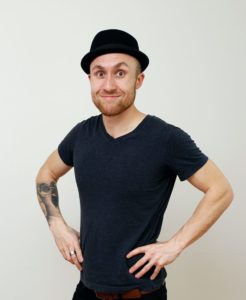 Logan Rudrum is the man Behind the Scenes at Cherry Velvet – he's our Art and Media Director that always has a number of projects on the go for our growing brand. Logan has a diverse background in media, film, web design and music so we thought it would be fun to interview him so that our Cherry Velvet girls could get to know him a little bit better.
CV: How did you get started with Cherry Velvet? 
LR: It was April 2013 and I was just finishing off a program at Douglas College. At the time, I was working as a freelance graphic designer and video producer—which was going well— but I always found myself craving a more permanent role where I could invest more time and develop a brand over a longer period. I came across the job posting for Cherry Velvet online and found the idea of working for a fashion brand (something I'd never done before) an interesting opportunity to learn more about a new industry. I applied, and the rest is history.
CV: Let's do some rapid fire questions so our fans can get to know you better. What is your idea of a great day? 
LR: Heading out on some kind of adventure, like a long, cross country road trip, with my very best friends – a day when anything can happen.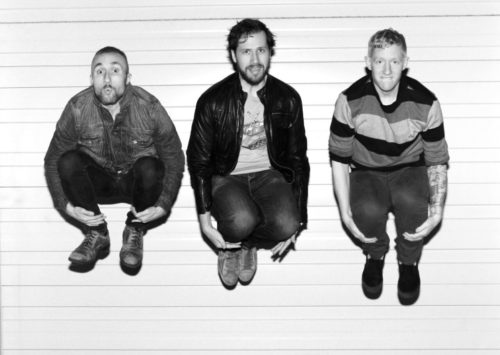 CV: Which living person do you most admire?
LR: Whenever I witness or speak with anyone who has overcome major odds, recovered from a serious injury, or turned a disability into a strength, I'm always extremely humbled and inspired. These people are my kind of heroes.
CV: What has been your greatest trip?
LR: A couple summers ago I took a trip down the Oregon coast with my two best friends. We've stuck together since high school (12 years) and have always been able to depend on each other. We watched a Mariners game in Seattle, enjoyed the Oregon craft beer scene (perhaps a little too much), walked among the redwood giants in California, and laughed harder than I can remember. I'd love to do this again.
CV: Which words or phrases do you overuse?
LR: I used to always say "I think" before saying something that I knew as fact, which left people guessing or questioning my words. Thankfully, I've gotten over this habit. (I think it was a confidence issue…:-) )
CV: What types of things do you do in your spare time?
 LR: I've become a big nature/outdoors person and I try to spend most of my free time hiking, swimming, biking, doing something active. I started competing in obstacle course races (like the Praetorian Race and Spartan Race) about a year ago and can officially say that I'm addicted. Outside of that stuff, I also play guitar and sing in a Vancouver band called World Roar.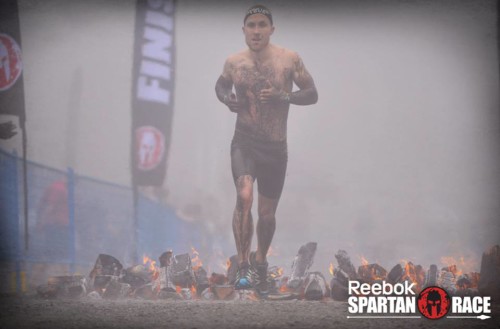 CV: You are already a pretty talented guy, but if you could choose, what talent would you most like to have?
LR: Super-human talent: I'd take Spider-Man's abilities in a heartbeat, yet flying would be pretty great—tough one. Regular-human talent: To never complain about anything or anyone, ever. This is a huge talent in my eyes.
CV: Favourite candy?
LR: I don't each much candy, but when it comes to sugary stuff, tropical cocktails (Mai Tais, Pina Coladas, Caribbean rum punch, etc..) are a summertime must!
CV: Chocolate or Vanilla?
LR: This is a trick question, right? Chocolate!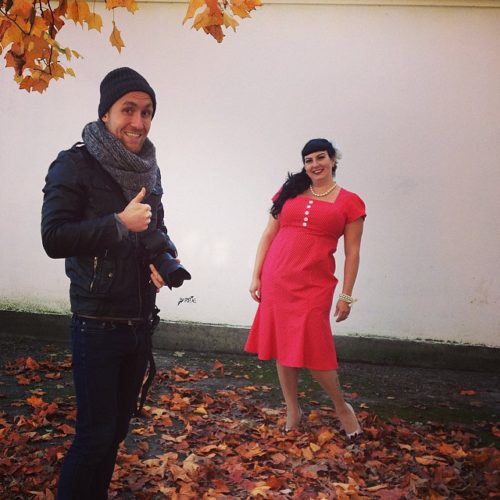 CV: What is your favourite thing about working for CV?
LR: There are lots of great things about working here, but if I had to land on one, I'd probably say that I love the opportunity to be creatively challenged, everyday. My role is fairly diverse and it's not uncommon for me to have 3-5 different projects on the go. I might be taking pictures one day and then planning a sale event the next. I enjoy the variety—it keeps me engaged and fresh.
CV: Okay, last question. Give us a hint…what new and exciting things can we expect from Cherry Velvet this coming Fall?
LR: It's going to be another exciting season! We're getting ready to release a powerful and inspiring photo series under the name of #StunningAtAnySize. More on this soon! Next month we have a shoot booked at the beautiful Galbraith House in New Westminster, which will showcase our new Fall collection in a wide array of playful prints. We have also just moved our head office to a new location which is a large, wonderful space that features a full showroom for scheduled shopping visits and our very own photo studio. We're organizing a Grand Opening party later this summer with swinging music, delicious h'ordeurves and bubbly stuff in fancy glasses.
So lots of big things are planned this for year. We're all pretty excited to show you the new styles we have in store for Fall '15!
XOX Cherry Velvet