We're quivering with excitement here at Cherry Velvet for so many reasons! We're in the 11th hour of signing a new lease, 'cause we're moving, (more dets when it's official), AND this week, we're doing a photo shoot with Fluevog shoes, right in their original downtown store! Yahoo! The idea for the shoot came from our designer's girlfriend, Shelly, (you know Shelly of the Shelly dress fame); she's a HUGE Fluevog  and Cherry Velvet fan too. A big thanks to her for helping us organize this, XO! Thanks also to Preet, the manager of the store, for accommodating us.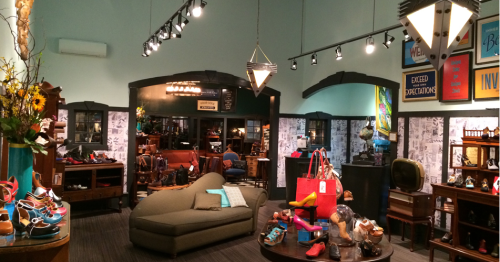 Did we mention how excited we are? Our designer, Diane, remembers her very first delicious pair of Fluevogs, back then called Fox and Fluevog. The shoes were black and charcoal grey Mary Janes with a pointy then squared off toe and a shapely heel. It's unfortunate that they no longer fit….she's no longer a size 6 1/2…, but the cool thing is they could still be worn today if they did. So many Fluevogs have a timeless appeal and that's why they match so well with our retro inspired dresses. A very sweet fan on Instagram said, and we quote,  "That is a dream pairing!!" Thanks @yycsian for your lovely comment! So flattered and well….blushing over here….but we couldn't agree more.
It was a VERY tough day picking out Fluevog shoes to match our dresses. Oh yes…..with so many choices, it was just so HARD (haha). Oh, and now there's a collective list…..yaaaaay long… of shoes on the wish list….
We'd LOVE to get your input on picking out shoes to match our Cherry Velvet dresses—some of them so brand NEW—they're not on-line yet!  We're also posting these on Facebook— comment where you like.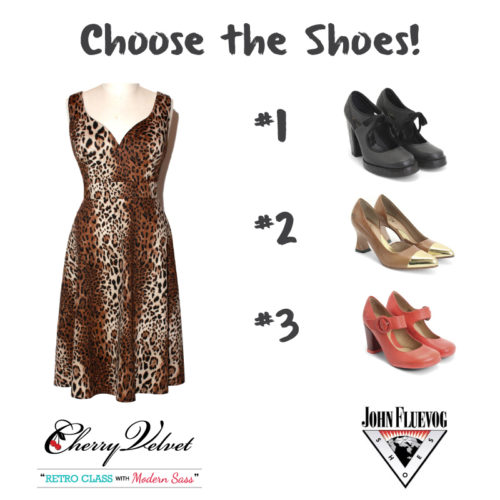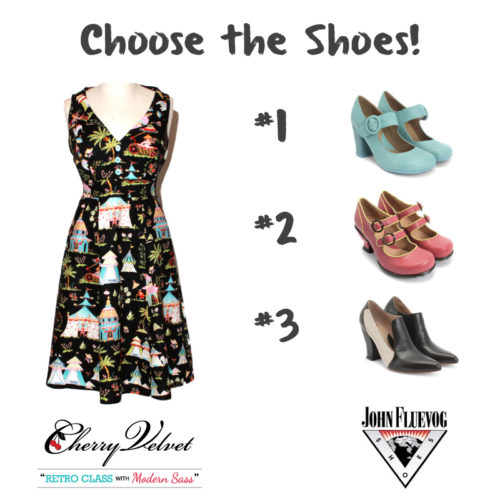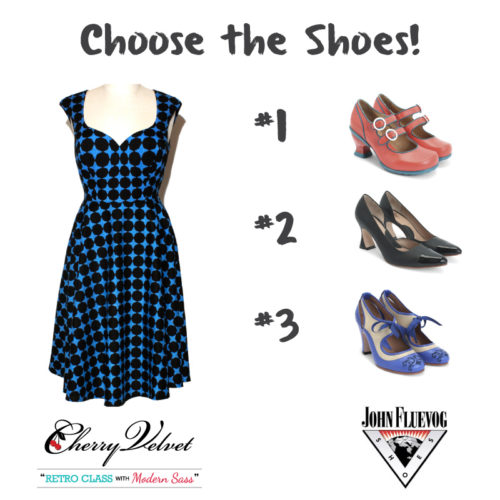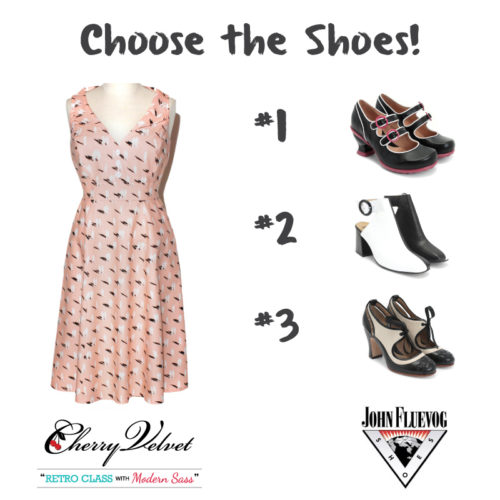 We've got a list of lovelies participating: Shimona Henry (our awesome photographer), Shelly Reinhart (our muse and super fun girlfriend), gorgeous Models, Nova Beth and Ruby Roxx, Hair by Lucy Lopez,  Jewelry by Mirror Mirror Bijoux and our designer Diane Kennedy.
We can't wait!
Cherry Velvet XOX