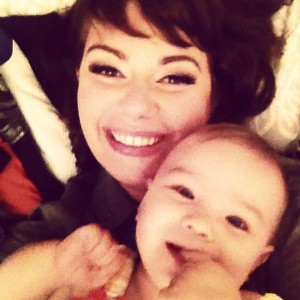 Post by: Diane Kennedy
Sometimes the details all come together and a brand new dress is born; we named this one Danielle! She's a favorite model and former assistant (she left to become a Mom) who asked if I might one day name a dress after her, which I thought was a great idea (how adorable are these two!). Wanting something appropriately fitting, I think this dress does Danielle justice and hope she thinks so too.
It all started with the fabric choices. I have to say I love each and every one that ultimately got chosen for this dress. I have one in each print for consideration to keep for myself (something I really never do), trying to decide which one(s) to choose (it seems incredibly decadent to keep them all, right?). It was decided we would use one way prints for this dress, which does take more fabric but almost always means the prints are more unusual and striking.
1. Rose Floral is a beautiful assortment of hybrid tea roses in sunset shades of pinks, corals and salmon all on a pale blue background
2. Beach Pugs could not be cuter: happy little dogs building sand castles, flying kites and tanning on striped towels. So many accessory choices with colours like coral, yellow, aqua, blue and white on a charcoal ground.
3. Retro Star is a really lovely combination of sophisticated colours with a mint background and stars that are two tone -fuchsia pink and dark red.
4. Black Geo certainly gives you a forties impression, with even red circles intersected by cream squares on a black background. It's kind of like taking a polka dot print one step further.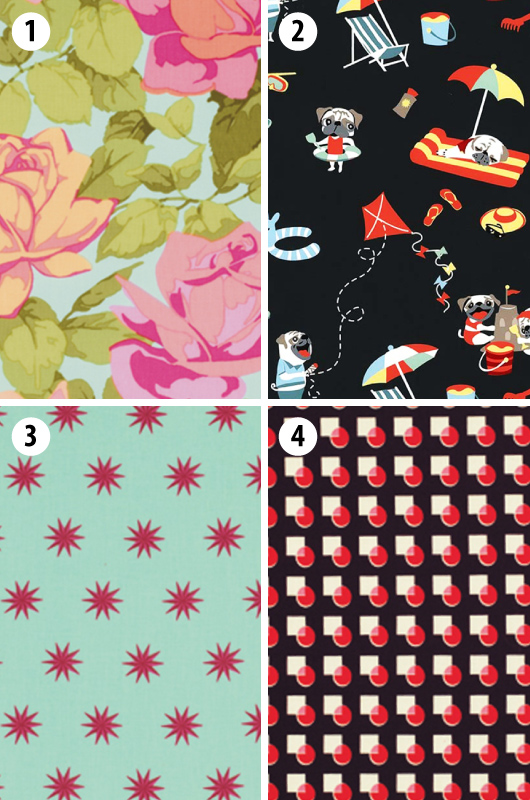 Just like our beautiful model Danielle, this dress embodies everything for which Cherry Velvet stands: great fit, cute details, and beautiful prints. We think everyone can look delectable in a Danielle! The collar wraps around the alluring neckline to the peekaboo back. You'll be the talk of the office when you spread the collar over the neck of a bright cardi. Three buttons at the front match the colours of the high-quality printed cotton. As always, pockets are a favourite, and the full skirt has plenty of room underneath to choose a matching crinoline.
Check out all the variations of Danielle here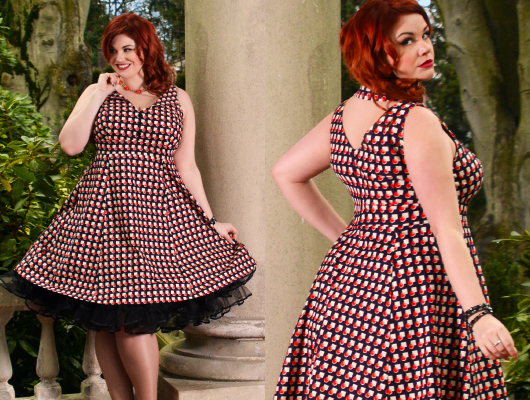 Don't forget: your exit is every bit as important as your entrance!
XOX Cherry Velvet