Many of us get our personal style cues from a variety of sources. Sometimes we are really aware of them and other times they are more subliminal. It can be as simple as liking an outfit from a scene in a movie, like Julia Roberts in Pretty Woman. Or the style of a model or actress from years gone by; Katy Perry wore a look to the 2013 Grammy Awards that was heavily influenced by the style of Priscilla Presley in her Elvis days. It is fun to play with style influences. Sometimes our inspirations are more straightforward like a certain decade of influence, or other times more subtle, like wearing a lipstick colour that is out of our comfort zone. I find that many women have a certain style that they gravitate towards, however most of us don't necessarily identify solely with one particular style.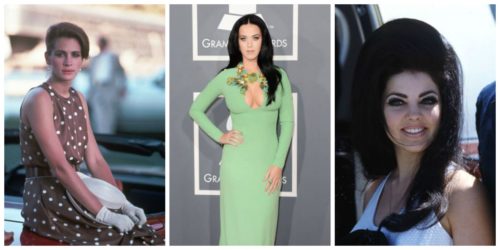 Cherry Velvet designs are influenced by retro and vintage dresses but given a modern twist. While some Cherry Velvet customers are into pin-up styling, many are regular girls that don't want to fuss with victory roll hairstyles and penciled brows. At times, you may dress that way as part of your personal style, but you probably dress other ways too. You don't have to define your style as Pin-up to wear Cherry Velvet. Our dresses are meant to be worn in different ways for many occasions.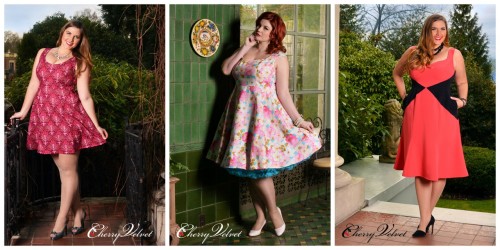 No matter what your personal style is, Cherry Velvet dresses are cut to accentuate your assets, and bring out a little bit of sexiness, in a gorgeous, fun, and elegant way. These dresses shouldn't be sitting in your closet waiting for a special occasion or one-time wear! Our Spring Collection is perfect for any occasion that requires a pretty dress; you can throw a little cardigan over our Brigitte dress or a cute blazer over the Viola dress and wear them to the office. The Brooke dress is perfect for a romantic evening out for dinner or just heading out on the town with friends. The great thing about using style influences to create your own personal style story, is that you can pick and choose different looks and re-interpret them in a way that suits YOU!
Where are you going to wear your Cherry Velvet dress next?
XOX Cherry Velvet