There are few garments that are as unabashedly girly as a crinoline. Layers upon layers of chiffon and nylon net create a confection reminiscent of an upside down flower in full bloom. Not for the faint of heart, a crinoline will not only get you noticed, you'll be sashaying with every step and want to twirl to every tune! Quite a powerful effect for a mere undergarment; something that often barely peaks out from underneath. More than a change in the shape of your dress, crinolines today are all about sass and attitude; a feminine statement like no other.

We have so many to choose from; a Candy Shop of crinoline colours!  including several new ones:
Watermelon (dark raspberry pink) *new
Blueberry (royal) *new
Bubblegum (hot pink) new*
Mint (pale aqua green)
Black Licorice
Cherry (red)
Grape (purple)
Strawberry (pale pink)
Blue Raspberry (turquoise)
Blueberry Ice (pale blue)
In the 1950s, post-war prosperity led to the re-emergence of the crinoline and very full skirts. These voluminous skirts with their yards of excess fabric presented a sharp counterpoint to the practical skirts and clothing rations of the war years. It was with Dior's introduction of the "New Look" in 1947 that the crinoline began to reappear after decades of being out of favour.
Throughout history, fashion often shouted "I'm too rich and important to work! Look at how impractical my outfit is!" While the shorter crinolines of the mid-twentieth century were not as restrictive as the longer and more elaborate crinolines of the mid-nineteenth century, it was no accident that the crinoline re-emerged in a society in which the ideal woman did not work outside of the home, and took care of the household duties.
Today we wear crinolines for parties, weddings, dancing and costumes.  There is something expressly feminine about a full skirt, especially made full with the volume of a crinoline.  Designed to provide the wearer's skirts with a greater degree of flared out fullness, we think they look especially sassy with a few inches of colour peaking out from the hemline.
Choose a matching colour or go for a real pop of colour underneath….especially with black or black/white polka dots. We're excited to have two new gorgeous shades of pink to share: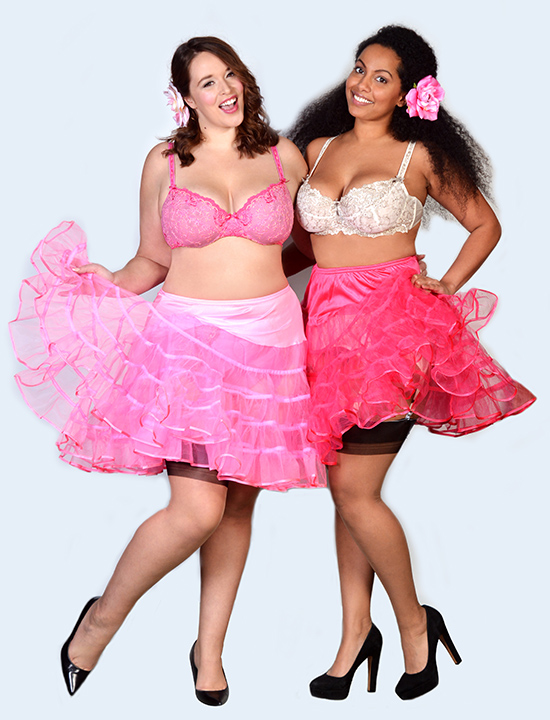 Check out our delectable selection of Candy Shop crinoline colours here!

XOX Cherry Velvet