At a recent photo shoot, we took a break and started chatting about doing a "How-To" video on Pin-up make-up. Who would pass on that–seeing Elly Mayday and her bestie Stela Licina, two of our favourite models, in a Cherry Velvet video together! And it was so great to hear from Elly, just recently out of surgery yet sounding happy and enthusiastic to get back to work!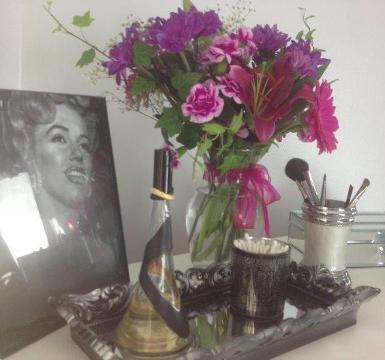 (Flowers for Elly and a little glimpse of her bedroom)
Fast forward to today, with me writing this post from Elly's bedroom. Logan, our videographer, is doing his thing. (I just show up to 'style' and take instagram pics).
It's so great to see the natural chemistry between these two friends. I know Stela has done Elly's make-up many times. In fact, that's how they first met–Elly had won a contest, with the prize being a photoshoot with Pin-up Perfection Photography, and Stela was the make-up artist.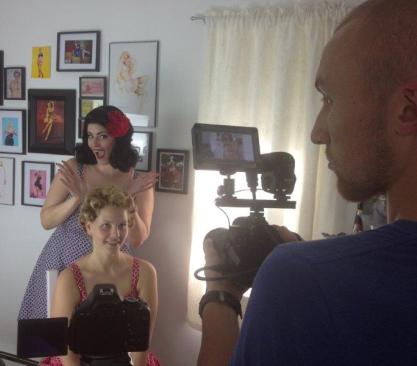 I'm sitting here, writing away and trying to keep quiet. Which is difficult, believe me. These girls are cracking me up! At the same time there's a transformation going on, from bare face 'farm girl' through all the phases of Elly's full pin-up look.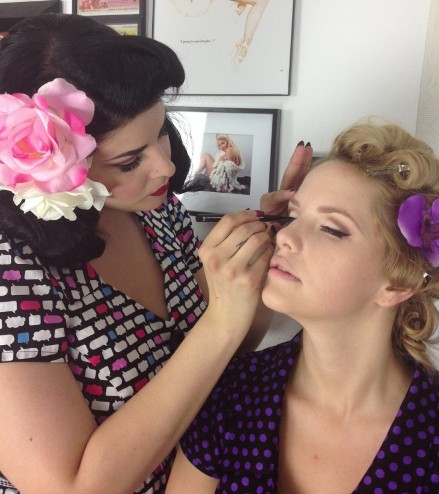 You're going to love love love the video. They're going to show you how to do foundation, eyebrows, shade, lashes, liner, lipstick…well, everything you need to know. And you can have some laughs along the way.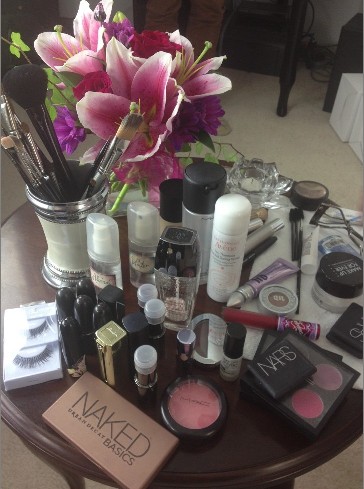 Oh. And here's Elly, fully 'done' and wearing one of our soon-to-be-released dresses, the 'Trudy Black/Violet Dot" and Stela, also in "Trudy",  Chatroom.
 I'm learning so much! and so will you….it'll be up very soon!