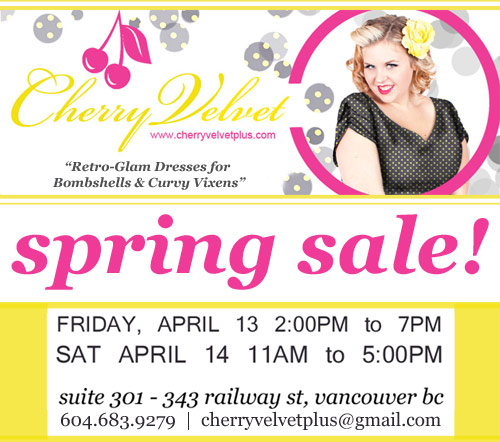 Spring has officially arrived, and what better way to celebrate than with a sale!
This weekend
we're opening our doors and welcoming YOU into our Railtown studio.  Come  visit us for a shopping party where you can take advantage of a great sale on all NEW SPRING 2012 DIANE KENNEDY and select
CHERRY VELVET
styles, as well as additional discounts on all Diane Kennedy sale items. Drop by to peruse the collections, meet the designer,  and pick up a little something special for Spring! (
And by the way, twirling around in our dresses and crinolines is highly encouraged
!!)
Can't make it to our studio?
No problem, we've included you too! We are also offering the same great discount off of everything (Diane Kennedy and Cherry Velvet) on
the online store
! 
Be sure to save the dates!
IN OUR STUDIO (#301-343 Railway Street, Vancouver BC, V6A 1A4)
Friday, April 13: 2:00pm to 7:00pm
to Saturday, April 14: 11:00am to 5:00pm
Friday, April 13: 12:00am PST
to Thursday, April 20: 11:59pm PST
This is an exclusive sale, for full details on all discounts, and to access the coupon code for our online store, please send us a message on facebook, or contact us by email (cherryvelvetplus@gmail.com). We hope to see you in the studio, or in the virtual world!
xx Cherry Velvet