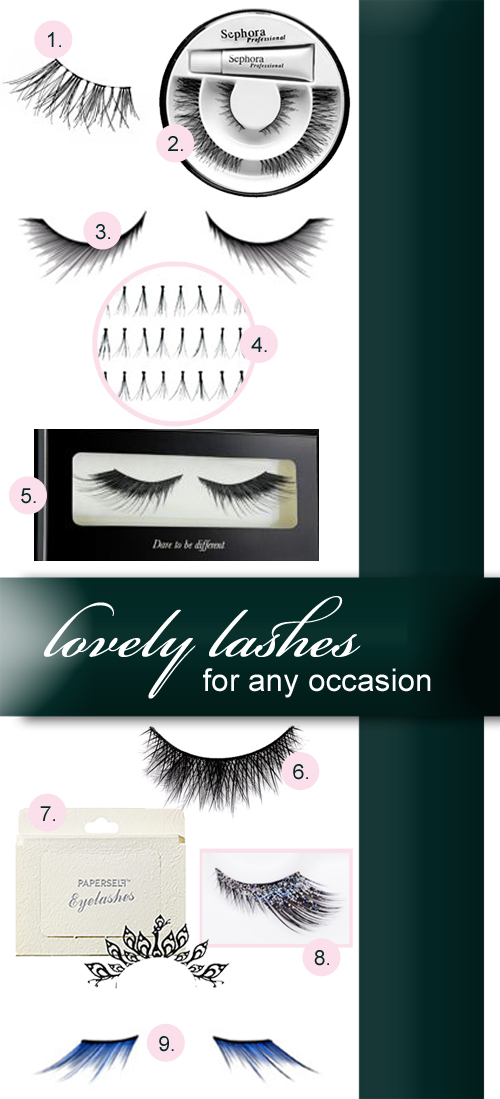 (1.

Ardell Lash Accents #318

, 2.

Sephora Flirt It Lash Duo

, 3.

Ardell Dramatic Lashes #139

, 4.

Makeup Forever Individual Eyelashes

, 5.

Illamasqua Grandeur Lashes

, 6.

Shu Uemura Black Velvet Feather Lashes

, 7.

Paperself Peacock Eyelashes

, 8.

Shu Uemura Dance in Glitter Premium Edition False Eyelashes

, 9.

Urban Decay Little Wing Urban Lash

)
This holiday ramp up your party looks with false eyelashes—the littlest accessory that could! With so many to choose from, there's a pair for everyone and every occasion. (Just don't wear those 2 inch pink glitter lashes for New Years day brunch with the in-laws or risk looking like last night's dance floor disco ball… Not that you would ever do that!) So, how to pull them off without looking silly?
Here's a breakdown of our top 9 choices for all your festive occasions, and a few majorly important tips to prevent any frightening fake eyelash mishaps. 'Cause glue in the eye just isn't the impact on your 'vision' we were going for…
Office Party
You've got the chance to inject some fun glam into your office persona, but you don't want to go into the realm of inappropriate and be forever known as "that girl".
Your perfect lash look option 1: individual lash fillers like #4 are the most subtle and natural of falsies, because they allow you the control and precision to add as much or as little fullness as you like, wherever you want. This is a great option for a more conservative office culture.
Your perfect lash look option 2: a half strip of lashes like #1 (or the shorter pair in #2) is a natural way to give your eyes a little more pop, as it extends the length and line of your lashes at the corners. This makes your eyes look a little bit wider and more open, and blends well into your own eyelashes. They'll never know!
Girls' Night Out
If anyone can appreciate a great set of falsies, it's your girlfriends! When you're out on the town, take the opportunity to step it up and have fun with your style.
Your perfect lash look option 1: add a colorful corner accent strip like #9 in a vibrant option like electric blue. With multiple lengths these whimsical lashes are a welcome surprise and sure to catch the eye of a tall dark stranger…
Your perfect lash look option 2: fluttering feathers are the perfect addition to your favorite cocktail dress. #6 combines criss-crossing lashes with delicate, soft feather tips for a full and flirty lash-line.
Holiday Dinner Party with Family
Don't let your eyes sink into the darkness during candlelit conversations around the dinner table. Let your lashes frame your face and show off the twinkle in your eye.
Your perfect lash look: #2 has a great full length strip of falsies that you can easily trim to fit your eyes. They have an incredibly soft and natural look that adds just the right amount of thickness and definition. You'll look pretty and polished for festive family photos.
Ugly Holiday Sweater Party (or other festive fun!)
Just because you're not dressed to the nines in your party finest, it doesn't mean you can't step up your makeup look. (After all, when you're wearing an ugly sweater, you've got to play up any pretty you can!)
Your perfect lash look: Fun and girly #3 is perfectly shaped and slanted to emphasize your peepers without looking over-the-top. For a casual gathering with friends, this is exactly what you need. Besides, after downing a few glasses of that spiked holiday punch you're gonna need some extra perk around the eyes for all those impromptu group photos.
New Year's Eve
Now's the time to go bold or don't bother! Nothing says New Year's party like drama, and here are three options that deliver.
Your perfect lash look option 1: get incredible fullness and extreme length with pair #5. This look is sexy and sultry, and oh-so-perfect for flirting your way to that midnight kiss. Put these on and let your eyes do the talking.
Your perfect lash look option 2: Want to be the center of attention? Already have a history of donning falsies at festive occasions? One-up last-year's look with #7. These laser-cut paper styles are delicate works of art that make a bold and beautiful statement. All eyes will be on you(rs)—wallflowers need not apply.
Your perfect lash look option 3: New Year's Eve is synonymous with sparkle—why not get glittery with your lashes too? #8 not only provides the perfect dose of sparkle; it also lends major length to the outer corners of your eyes. This is what your eyelashes would look like if you got caught in a fairy tale glitter storm… Sexy snow princess here you come!
Brunch with the Parents/In-Laws
With night after night of parties, you're going to need some extra oomph for any occasion scheduled before 2pm.
Your perfect lash look: With the half length lash strip from #2 you'll look fresh and awake for all your daytime engagements. This pair will add fullness and length in a way only your mama could give you! Just bat your 'naturally' thick lashes and you'll easily fool even the most scrutinizing of meal companions.
Top Tips to Avoid Falsies Failure:
1. Make sure your false eyelashes are the correct length for your eyes. This is especially important with full strips of lashes, as you don't want one corner to end up too long. Before gluing, place the strip across your lash line, lining up the outer corners first. Any over hang on the inside corner should be trimmed off before applying.
2. Use a light coat of mascara on your own lashes before applying the fake ones. This helps them mesh well together so there isn't a distinct space between the two rows.
3. Apply a thin layer of glue with a toothpick if your tube doesn't come with a thin applicator. Let the glue get tacky before sticking it to your skin or you'll risk having the ends peel up. This will also make sure you don't get any glue in your eye. Globs of gluey eye goobers are NOT pretty. Also, always apply the eyelashes from the outermost corner towards the inside.
x0x CherryVelvet