8 Sep

It's a question we get asked a lot by shoppers in our studio. "Is it smaller than a size XL? The answer is, it's actually one size bigger than an XL. It's a very important size for our brand to fit those 'inbetweenies"
Size 0X is really part of a bridge between regular and plus sizes. Because many of our dresses are made from (non stretch) 100% cotton, to correlate to the sizing more commonly available in plus we had to add in an extra size. Traditionally non-stretch sizing increments must be smaller than for stretch to fit the maximum number of people properly.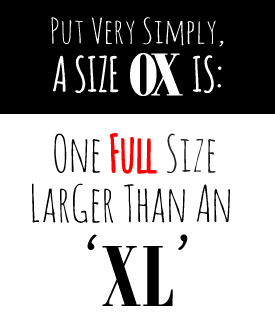 I first started designing my brands because when shopping and was so frustrated to find clothes that I wanted to buy but that weren't available in my size. The stores all seemed to only carry up to a size extra large. I remember asking the sales clerk… "Can't it just come in one more size?"
Aside from being a designer for many years, I'm also a patternmaker and fit technician. Even as the owner of the company, I'm very much hands on with these tasks. It doesn't matter how pretty a dress is; if it doesn't fit, no one will buy it. So, fit is critically important to me. Along with pattern making, another important task is called grading which is taking a pattern and making it into all the different sizes.
Before I ever started Cherry Velvet (and my other brand Diane Kennedy), I had been working as a designer/ patternmaker/ grader professionally for many years. I was the first patternmaker at the beginning of what was then a 'little brand' called LuluLemon. I remember asking Chip Wilson why he didn't make a bigger sizes. His answer was….let's just say…. less than satisfactory.
So at that moment in time, I was extremely frustrated with the absolute lack of my size in the clothes that I wanted to buy. If you follow the series of dress sizes, brands often go from XL to 2XL and then 3XL. But this really doesn't represent plus sizes accurately. That's why size 0X is so important; it fills the hole between true regular sizes and true plus sizes.  To fit the most people possible it was really important to include this size.
 We've been doing a lot of checking lately into the sizes that we're selling online to make sure that were offering enough dresses in the right sizes. When we started to really look at it I have to tell you I was extremely surprised that 0X was not a more popular size. It's my size and it fits me perfectly!! Ha!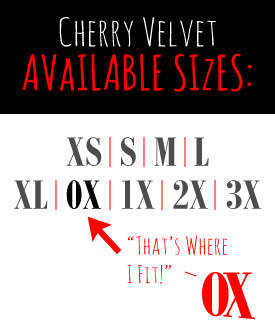 Another way to look at it: 0X is 2 inches bigger than a size XL and 2- 3 inches smaller than a 1X.
So we're hoping to have cleared up exactly what the heck  size 0X really is. If you leave that size out, there's an enormous gap between regular sizes, up to 5″ and that is why size 0X was born!
XOX Cherry Velvet