24 Jun
Every Cherry Velvet girl knows that our dresses stand out from the rest with our eye catching prints. As part of the design process, our designer, Diane, spends dedicated time searching for prints that exudes our flair for style. During one of her marathon searches, Diane came across a fabric designer named, Tula Pink. Primarily sold as quilting fabric, Tula Pink's designs are gorgeously whimsical with an impeccable eye for colour theory and illustration… And cute hidden animals.
As a designer who worked hard to get her fashion lines off the ground, Diane appreciated Tula Pink's story – which took her from LA to Kansas City and turned her passion for fabric design into a dream career.
Diane ended up falling in love with a print from one of Tula Pink's collections, but alas, it was sold out.
Her interest piqued and not to be deterred, she ended up choosing a couple of prints from the same collection.
After the tremendous success of these dresses, we knew we had to continue keeping an eye on Tula Pink's new fabric releases.
We chose this striking Tiger print for our Tatyana Dress:
Earlier this year, as we were now following @tulapink on Instagram, Diane came across this adorable squirrel…
…followed by these adorable foxes
And suddenly, dress ideas started flowing in. Diane decided to choose a few playful prints for the last couple of  our collections and we love how wonderfully they fit into our style. They bring so much energy and fun to our already fabulous dresses.
This season, we introduced you to 2 new sundresses, Alice & Sally.  We thought these would be perfect to showcase the cute prints that caught our eye. As we mentioned, we love Tula Pink's colour palettes and our Sally in Chevron (Sky + Sunset) is such a lovely burst of colour!
With our own penchant for animal prints, we love that Tula Pink often hides little wee creatures in many of her designs. Remember those sketches? We just couldn't resist!
As always, we look forward to seeing what new designs Tula Pink comes up with and we're even more excited to release another dress (or 2!) in our upcoming collection in the Fall, featuring more of her fabric! Like our freshly remixed Shimona…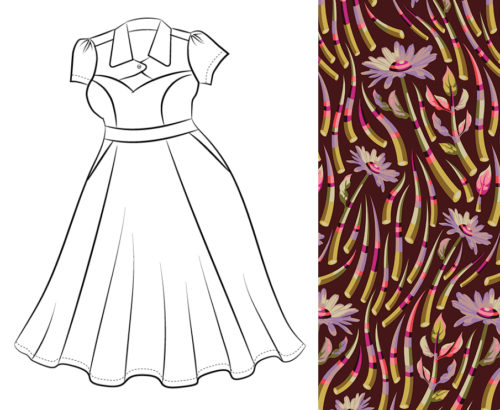 …Just a tease…for now…!
XOX Cherry Velvet