We know that getting dresses that fit well is very important to you, especially when you're ordering online. Have you ever wondered how we make dresses that fit so well? For those of you who are interested in technical things, this post explains the sizing process called Grading. Grading is taking a clothing pattern that starts off as one size and creating all the other sizes. We make two base patterns, a plus size and a regular size pattern. From those two original patterns, the other sizes are then created. Making two patterns and then grading (sizing) them separately is what gives our garments their superior fit.
Making the variations between each size is subjective and up to the designer. We use a C.A.D. (computer-aided design) program called Optitex to make the patterns and do the grading.  Each corner and each segment of the pattern is given a value to increase or decrease the size. If you look at the image below, each larger dot that you see is given a value. These values or increments are often very tiny, often an 1/8″, 1/4″ or 3/8″ of an inch.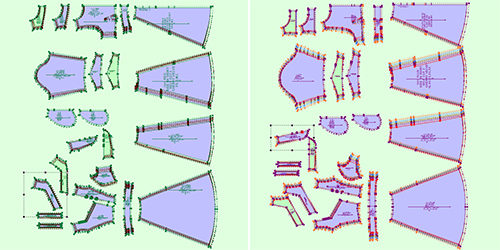 Above left is the regular size pattern, on the right is the plus size. While they look similar, the differences are there if you look closely.
Where it can go wrong…
When you go shopping, you may have come across a garment that has buttons that pull open across the chest. Or perhaps the shoulder seam is halfway down your arm.   This usually means the person doing the grading doesn't have a very good understanding of how bodies get bigger and smaller.  This is where skill and knowledge come into play.  Especially on plus-size bodies, as we get bigger in size we don't necessarily get longer.  We might need more depth in the crotch for example because our bodies are wider from front to back.  This is especially true for North American bodies and why pants graded in Asia often don't fit well. We probably need more room across the back (but not the shoulder) and in our biceps or our thighs because those parts get bigger as we get heavier.

Recently a customer ordered dresses in a size 2X when she should have ordered a 3X,  which was her correct size. She thought they 'might' fit.  This is what inspired us to write this blog post just so you can have a better understanding of how size and fit changes. This chart shows how much of a difference there is between one size and the next.
Hopefully, this explains some of the processes that go into making a garment that fits well.  After designing, making patterns and grading for almost 35 years Diane Kennedy knows a thing or two about design, sizing and fit for all sizes.
Remember, we are always happy to help you find your best fit. Don't hesitate to ask if you're not sure. We love hearing from you and we want you to be happy with your purchase.
XOX Cherry Velvet